January

MINA PHILIPP
Mina is a self-taught knitter and designer with a massive passion for incorporating colour and texture into her designs. She has a great love for everything from cables and textures, to colourwork and lace. She has always aimed to be inclusive with her design work in terms of sizing and pricing, so as many people as possible can enjoy them. 
 
Mina prides herself on creating patterns that are approachable for newer knitters by providing clear and detailed instructions, while also remaining interesting and engaging for more experienced knitters. Wherever possible in a design, she incorporates flexibility to give knitters the tools and confidence to customise their projects to suit them. 
 
She also hosts a video podcast on Youtube as the Knitting Expat Podcast, posts frequently over on Instagram as @knittingexpat and in recent years she has also started teaching in person and online knitting workshops. You can find Mina's designs on Ravelry as Knitting Expat Designs. This month we're delighted to display four of her samples from her new cowls book, the Yorkville Sweater and the Snow Day Shawl. While our store is closed, we'll be highlighting each design via our Instagram feed this month.
 
December

TETI LUTSAK - NUTSKNITWEAR
Teti is a botanist by training and at heart, who found a creative escape from strict lab protocols in knitting. She lives in Haarlem, The Netherlands and in 2017 switched her career to chase a dream of designing full time. 

Teti's designs are inspired by nature, flowers and leaves, textures of bark and moss, movement and stillness of grass. She lives in a small attic apartment with her husband and her ginger cat Katzie, from where she can always take a bike trip to the dunes in search for inspiration. She loves sophisticated yet functional designs, seamless constructions, has a good eye for misfit and struggles to satisfy her inner perfectionist. She is attracted to natural warm colours and finds special pleasure in designing colourwork.

We are excited to have three of Teti's samples on display at our shop: the elegant cablework pullover Dark Moss, the irresistible floral stranded colourwork sweater Florarium Light and the just released Inflorescence Pullover in which floats are ingeniously carried on the right side of the yoke. Customers can admire Teti's craftsmanship and we have all the yarns suitable for these wonderful projects. You can find Teti's patterns on Ravelry and follow her designs on Instagram: https://www.instagram.com/nutsknitwear/. Her website is https://www.nutsknitwear.com/
November

MIEKA JOHN - SALT AND STONE KNITS
Mieka John, the Amsterdam-based designer behind Salt & Stone Knits, enjoys the many facets of being a knitwear designer. On an average day she's connecting and collaborating with other makers, biking to her next appointment, swatching designs, and preparing classes. Sometimes she even manages to stop for fresh Dutch herring on the way home and there's always a few WIPs in the basket of her bike.
When she moved from New York in 2017 to Amstedam, knitting and crochet were the only crafts to make it through the move. She turned to yarn to fill the idle hours that accompanied her first few months in a new country. Through the Stephen & Penelope for a craft night, Mieka found her community. Inspired and encouraged by those around her, Mieka found that the spark that led her to teaching and designing was kindled.
The designs of Salt & Stone Knits are grounded in technique. When Mieka teaches knitting classes she enjoys connecting with students from around the world both virtually and at festivals. Often the techniques featured in her lessons become the central focus of her designs. She delights in finding new applications for familiar techniques and building them into wearable and versatile items. Creating handmade items of clothing is a way for Mieka to enrich her wardrobe and discover her style.
Mieka gets excited when she imagines the life of a knitted object as it's taking shape on her needles. What could make a pair of slippers extra cozy? Will a scarf be used to bundle up against the wind or worn loosely on a spring afternoon by the sea? When she can envision her designs taking up space in the real world, she gets a better sense of how they should look. Visually, her designs are rich in texture; densely repeated motifs and deep, plush fabrics that delight the hands as well as the eye.
We are thrilled to have three of Mieka's patterns in our window display this month. The Hestia Slippers from Laine 52 Weeks of Socks, the Chickpea Cowl and the Mokum cowl are all small projects that are perfect for gift knitting. Though the store is still closed as a precaution against COVID 19, we hope you can stop for a moment to admire them if your travels take you past the shop. You can find Mieka's patterns on Payhip and Ravelry, and see more of her beautiful work on instagram @saltandstoneknits.
OCTOBER

XIAOWEI HU - XIAOWEI DESIGN
Xiaowei Hu is a Chinese-French knitwear designer living and working in Lille, France. She specialises in clean, modern knits, many of which are sized for both women and children for bonus twinning fun.
For Xiaowei, knitting is her daily life and has been since she learned to knit at six years old. She was born in northern China, where winter temperatures could drop down to -20º. From childhood, all the women around her were knitters, her mother, her aunts, her neighbours. At that time in China, knitting was the main activity after work for many women. Before winter came, women would knit sweaters and pants for all her family members. Xiaowei particularly remembers the woollen pants that were worn under regular pants, they were essential to getting through the cold weather.
Xiaowei dreamed of becoming a stylist, and being a knitwear designer has allowed part of that dream to come true. Her studies in fine arts also helped her on the path. She always records the interesting elements she sees, be it a color, a shape, or a pattern, then composes them in her own way. At the start of her design career, she only created adult patterns, but after the birth of her daughter, she started also making children's garments, and mother-daughter patterns. Her daughter is a strong source of inspiration for Xiaowei, and she always imagines the render of a pattern on her daughter when she designs an adult model or vice versa.
We're lucky to have four lovely Xiaowei Designs samples to share in October: The adult sized Huangshan Sweater and Tiyuan cardigan, and the children's sized Little Molis and Little Môme. While the store is currently closed, we'll be featuring each design on our instagram feed. You can find more of Xiaowei's work on instagram @xiaowei_design, and her website  and on Ravelry.
SEPTEMBER

SHIN KNUDSEN - SHINYSUPERHERO
Shin Knudsen, also known as shinysuperhero, is a Danish crafter. She was taught to knit as a child by a family friend and, after taking a break from knitting in her teens, picked up her needles again in her mid-twenties. Eventually, knitting became Shin's path to relieving stress and anxiety, and feeling a sense of accomplishment outside of her work. She started designing her own patterns in 2018 and has a "learn as you go" approach to designing. The idea that you can turn your vision into something that you and others can knit, and then to see knitters making items from your patterns is miraculous to her.
Fun is fundamental to Shin's design philosophy, as is making what feels right in the moment. Sometimes that means bypassing current trends, other times, she takes inspiration from fashion and pop culture. Shin's signature aesthetic is multi-coloured intarsia and stranded colourwork, particularly featuring bright colours like her favourites yellow, pink and green. Shin particularly loves designing with intarsia, because imagination is the only limit, and because it is fun to knit too.
AUGUST

KWANNIE CHENG - STUDIO MANYA
Kwannie Cheng is the designer behind Studio Manya and is based in The Netherlands. While on maternity leave in 2013, she learnt the basics of crochet from a neighbour. Kwannie's  work took an upturn in 2018 when she started was inspired by a friend's social media success to launch her own instagram account. The  decision to focus on miniatures was, at first, purely a tactical decision: with two kids and a job, Kwannie did not have much time left to crochet. Smaller items would be quicker to finish, meaning more posts, she thought. But she soon realised nothing could be further from the truth! Nevertheless, Kwannie's miniatures have resonated with crocheters around the world, and her work continues to grow.
Kwannie's mission is to show people that there is so much more you can create with crochet, and to capture the not-so-glamorous aspects of everyday life. She hopes this relates to other crocheters, or at least gives them a laugh. Throughout August, we have four samples from Kwannie's Doll House range on display in the store: the
Fridge
,
Stove
,
Couch
and
TV Corner
. You can see more of Kwannie's work on her website
studiomanya.com
and find her patterns on
Ravelry
and
Etsy
.
JULY

JULIA WILKENS DESIGNS
You might recognise Julia from our Employee Spotlight section, because in addition to being a knitwear designer, she is the Operations Manager here at Stephen & Penelope. Julia hails from the Frankfurt/Main region of Germany, but has lived in Amsterdam for over 20 years.
Julia has always altered patterns to better flatter herself and her tastes and in 2019 took the leap into publishing her own designs. Colourwork yoke sweaters are a particular favourite for Julia, and she takes her inspiration from the fine art world (in a former life, Julia was an art gallery manager), and from nature.
Julia's summery brioche tank top Azimuth was published in issue 33 of Pom Pom magazine, you can visit Azimuth, and Julia's yoked sweater designs The Painter, Aero, and the newly published Matilda in the store through out the month of July.
JUNE

REBECCA MCKENZIE - RAGING PURLWIND
Rebecca McKenzie is the knitwear designer and creator of the Raging Purlwind brand. The brand grew out of Rebecca's desire to create clothes that would fit her body rather than trying to make her body fit into her clothes. She has a whimsical style and enjoys designing coloUrful, vintage-inspired knitwear pieces that she hopes will become staples in any everyday wardrobe.
Each Raging Purlwind design is created with a story in mind. Every stitch is carefully chosen to convey different elements of that story and this translates into a crafting experience that is both relaxing and fun for those who choose to knit them.
Throughout the month of June you can visit the store to see samples of four of Rebecca's patterns, Aperture Cowldana, First Sunset Shawl, Radiance Tank, and the Mermaid Top. 
APRIL & MAY

NORIKO HO - NORICHAN KNITS
Noriko is the knitwear and crochet designer behind Norichan Knits. She has been knitting, spinning, and crocheting for over 15 years now, and while she published her first pattern in 2008, it wasn't until 2014 that she decided to become serious about designing.  Since then, she has been published in a variety of magazines and booklets, as well as her self published designs on Ravelry.
When not designing, Noriko is typically still hard at work, as she works part time at an LYS and part time as an optometrist.  You can check out what she's up to on Instagram
@norichanknits
!
Because the store is still closed until further notice, Noriko's beautiful samples of her new shawl pattern
Tien May
, her
Numbat Cowl
and crochet shawl
Lost Lake
aren't up on display yet, but we're hosting a virtual sample display on Instagram this month. Check out our feed each week to see these lush samples!
MARCH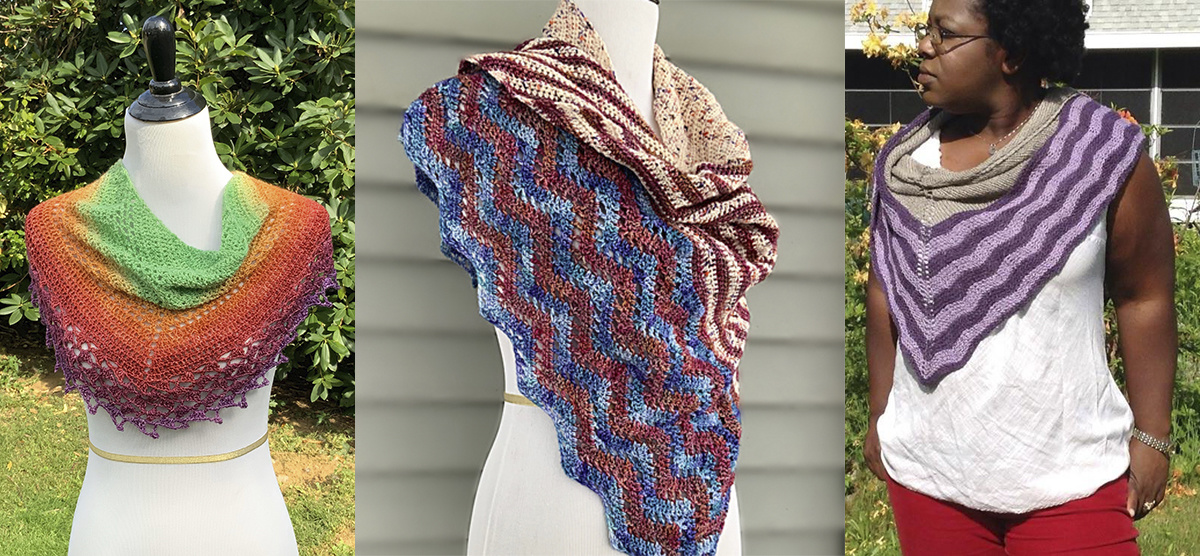 TIAN CONNAUGHTON
After spending over a decade in corporate finance, Tian Connaughton turned her part-time side hustle as a crochet and knitwear designer and sought-after technical editor into a full-time business. Leveraging her expertise, Tian coaches, creates patterns, and designs learning programs to empower knitters, crocheters, technical editors, and creatives to establish solid foundations to grow and reach their goals.
Tian is not afraid to share what she knows. You can often find her on Instagram (@KnitDesignsbyTian) sharing insights that motivate, with the mindset that "if I can do it, so can you", because she's here to show you how and cheer you on along the way.
Tian is also the creator behind the online course Pattern Grading Made Easy, the host of the Real Talk with Tian podcast, and the author of two books available on Amazon. You can find her at TianConnaughton.com.
Samples of Tian's designs, Wingdale Cowl, Chevron Pop Shawl and Frome Cowl are in store all throughout March.
FEBRUARY

JIMENEZ JOSEPH - JIMI KNITS
Former Graphic Designer and Track & Field Heptathlete, Jimenez Joseph took up knitting after severely dislocating her knee joint. A simple gift of a 'Learn To Knit' kit sparked a curious interest that quickly became an obsession.
Since publishing her first pattern in 2011, her focus has been to design garments that she would want to wear. Her designs are inspired by the colours, composition and texture of yarns that she encounters, which then go towards developing into novel pieces.
Jimenez's creative vision is backed up by the clarity and concision of her patterns, using her graphic communication skills to simplify even her most complex designs.
We have four gorgeous Jimi Knits samples in store in February, drop in to see the Aggregate Shawl, Chicane sweater, Refraction Shawl and the Yzzy Mitts and Cowl set.
JANUARY

TINA TSE
Tina designs and manages a team that works on industrial knitting machines by day and creates hand knitting pattern designs by night. Her grandmother taught her to hand knit very young and Tina translated that passion into her career in college, studying knitwear design. She started her career in the fashion industry as a knitwear specialist, working with designers to execute their knit fabric or garment ideas.
Now, she works in the sporting goods industry, developing technical textiles with plastic yarn. She publishes independent patterns on Ravelry and has been published in Pom Pom Quarterly Magazine. She draws inspiration from textures to color changes to the people in her life to her Chinese culture. She is passionate about sharing her experiences as an Asian American and advocate for proper representation of Asian identity, especially in creative spaces.
Through January you can stop by the shop to visit samples of the Golden Horizons Sweater, Long Spring Daze Shawl, and Seven Maidens Shawl.
DECEMBER

NOMA NDLOVU
Noma Ndlovu is a knitwear designer based in Johannesburg, South Africa. She has been knitting since she was five years old and was fortunate to be born in a family that valued creativity and taught her a lot at such a young age.  Prior to becoming a full-time knitwear designer she was a Personal Finance Trainer and enjoyed working with communities and corporate organisations to educate people on personal financial management.
Noma enjoys designing modern garments and accessories with interesting texture usually featuring cables, lace and a combination of knit and purl stitches creating unique, one of a kind designs.
Through December you can stop by the shop to visit samples of the Ruched Shawl - Light, Thandeka Pullover, Black Berry Shawl, and Khanyisa Cardigan.
NOVEMBER

MALIA MAE JOSEPH
It's November Designer of the month time, and my staff has convinced me that I should have a go!⁠
⁠
I'm Malia, I'm the founder and co-owner of Stephen and Penelope, and when I grow up I want to be a designer.⁠
⁠
Sometimes I piece together the time to work on designs, and actually write them down, have them knit and photographed.  Mostly ideas and sketches just sit in one of my sketchbooks for ages!  One day when life slows down I will focus more on this creative part of my life! Many of my recent designs were created with West Wool, a yarn whose palette I helped to design as well, so that has been a very special process for me.⁠ 
This month you can visit the Brackish Jumper, Brackish Hat, and Trixie Shawl in the shop, all knit in West Wool of course!
OCTOBER

NANCY MARCHANT
Nancy Marchant, a.k.a. the Queen Mother of Brioche, has studied the nuances of this European stitch for more than 20 years. She's developed new and exciting stitch patterns and techniques for achieving beautiful brioche results.  Nancy is the author of Knitting Brioche, Knitting Fresh Brioche, Leafy Brioche, Tuck Stitches, and Knitting Brioche Lace.
Nancy lives in Amsterdam, yet finds the time to travel the world giving lessons and spreading brioche love. Learn more at www.briochestitch.com.  This month you can visit samples of the Red Kite, Evergreen, Daphne, and Brioche Buddies in the shop's designer of the month display.
SEPTEMBER

MARA LICOLE
Mara Licole is the designer behind Mara Licole Knits. She creates designs that are soulful.  Inspired by her culturally rich urban upbringing, romantic daydreams, and wanderlust spirit, all of Mara's designs begin with carefully chosen colors and quality yarns that are made of 100% natural fibre. If you adore little bits of luxury, delicate details, and projects with bespoke qualities, you will love Mara's designs.
Mara is a self-taught knitter who decided to learn to knit as a way to manage anxiety.  After earning a bachelor's degree in psychology, a master's degree in communication, and completing first year coursework for law school she struggled to fit into professional roles in predominantly white institutions where diversity is just a strategic goal and inclusivity is not a priority.  As a professional she has worked as an Assistant Director for Diversity, a college instructor, a personal brand and career coach for formerly incarcerated individuals and more recently a Makerspace Manager.
The anxiety from trying to fit into many of these workplaces led to the creation of Mara Licole Knits in 2016. She is working on expanding her design portfolio to include a broader range of projects for you to enjoy.  Throughout September you can visit Stephen and Penelope to see The Rose That Grew from Concrete, Islington and Wildflowers + Honey in the Designer of the Month display.  You can also follow her design journey on Instagram @maralicoleknits.
AUGUST

FRANCOISE DANOY
Frenchie of Aroha Knits works as a knitwear designer and coach, she inspires and empowers fibre artists to transform their yarn so they can manifest "Aroha," one stitch at a time.  She is passionate about creating meaningful and fulfilling work, shaking up the industry and fibre community, and serving as a catalyst for transformative impact.
As a bi-racial, multi-cultural queer crafter of colour, she works to empower knitters, whom she calls Fibre Muses, by exploring the intersection of making with identity, so they can think deeply about what they create, to make a transformational impact with their craft.
Her designs draw influence from Frenchie's Moari heritiage, where she transforms the myths, legends, and other stories into stitches and connect them to the story of why we make.  Through this recreation, her work aims to remember the past and strengthen the future for the Maori culture and people, while enriching the present knitting community and sharing her voice, and the stories the third-space generation.
This month you can visit samples of the Aumangea Pullover, and the Taimana, Whakairo, and Kahurangi cowls.
JULY

ANDREA MOWRY
After leaving her life as a pastry chef to start a family, Andrea's hands found the necessary freedom to begin creating with fiber instead of flour. She focuses on designing knits to fit the modern wardrobe – fun to knit and easy to wear. Andrea has a great love for indulging in new techniques and skills and then sharing them with other knitters thru her patterns and workshops. Her goal is to leave knitters feeling empowered, inspired, and wrapped up in their own beautiful knits! You can find her at www.dreareneeknits.com and everywhere else as DreaReneeKnits!  Throughout July you can visit Andrea's samples of the LYS cardigan Wildwood shawl and Plumpy shawl in our Designer of the Month display.  You can also pick up the yarn set for the Plumpy shawl in sport or DK in store or online!
JUNE

JEANETTE SLOAN
Jeanette Sloan is a designer, maker, tutor and writer based in the seaside town of Brighton & Hove, England. She was taught to hand knit as a child by her West Indian mother and went on to study for a degree in Textile Design where she added machine knitting and embroidery to her portfolio of skills. Her designs have been published in magazines like The Knitter, and as well as self published patterns through Ravelry, she has also produced work in collaboration with Erika Knight for her eponymous yarn label. Jeanette has a real passion for bright colour and particularly loves adding a modern flavour to traditional lace structures producing accessory designs that are both timeless and wearable. When she isn't knitting Jeanette works to raise the profile of BIPOC in the fibre community. She also loves to cook, entertain friends and relaxes by taking long walks by the sea.  This month in the shop you can visit samples of the Diamond Corner Shawl, Naomi Shrug, Dionne Shawl, and No 1 Skeete Road Shawl.
MAY

LAVANYA PATRICELLA
This month's Designer of the Month is Lavanya Patricella, a knitting instructor and designer based in North Eastern Pennsylvania. She's been teaching knitting since 2010 across the United States, and has published more than 60 patterns since 2014. Lavanya's primary knitting passion has been the brioche stitch, and she tutors her students with a very hands on approach to the technique.  Her passion for knitting lights up yarn shops and inspires knitters, eager to learn new techniques and expand their creativity. You can come touch and try on some of her samples this month in store, the Divi Divi Shawlette, the Garter Snake Cowl, Sol Queen, and My Chrysalis Shawl.
APRIL

JENNIFER STEINGASS
Jenn Steingass is a Maine-based knitwear designer in love with all things knitting, color, wool and circular yoke sweaters. She started knitting for her son when he was a baby and hasn't been able to put the needles down ever since. She strives for her designs to be simple yet beautiful while being easy to make and wear.  Jenn believes that knitting is empowering and a must-have life skill.  You can follow her design adventures on Instagram: @knit.love.wool and see some of her samples in the shop this month, the Aboreal, Darkwater, and Arata sweaters will all be on display.
MARCH

SAFIYYAH TALLEY
Safiyyah Talley is a knitwear designer, teacher, blogger and podcaster working out of her country style ranch in an unofficial town in central Indiana.  Prior to working in knitwear, she taught pre-school and before that, she was a fashion journalist in New York City.  After the loss of her child, she made the dramatic change to quit her job and pursue her dream of creating for a living, advocating for grieving parents along the way.  The Joy Shawl, her first published pattern supports families who are navigating baby and pregnancy loss.  When she is not knitting, Safiyyah splits her free time between yoga, quality time with her husband, two cats, puppy, and angora rabbit.  You can see these three patterns in person at the shop all month (from left to right) The Dipper Cowlette, The Joy Shawl, and the Moby Tee.
FEBRUARY

TORI SEIERSTAD
Tori Seierstad has been knitting since she was five years old. She grew up and still lives in Lillehammer, Norway, where the winters are cold and snowy, and wool is welcome. Tori has a special love for stranded colourwork mittens, but also designs other accessories and sweaters. Her favourite knitting festival is Shetland Wool Week, where she has been several times, the last couple of years also as a tutor. She first went to Shetland for Wool Week in 2012 and can't stop going back. Her most popular sweater is the Fairisle inspired "Next year in Lerwick", which she designed when she couldn't go back in 2013. She has many self published patterns on Ravelry, under the name torirot design. Together with fellow Norwegian designers in Vottelauget (the Mitten Guild), she has also published a book, "Eventyrvotter" (Fairytale Mittens), in 2015.
JANUARY

LA MAISON RILILIE
January Designer of the Month La Maison Rililie shares with us "As most knitters out there I had learned how to knit in school and started once more after a really big pause during a long stay in Edinburgh. I was there for half a year and fell in love with all the nice wool that is readily available in Scotland. I immediately started to be very active on Ravelry too, and thanks to this community I not only got back to knit again, but also learned so much more about it.
Sadly I lost my father during this time and I can now say that I was able to cope with all the sadness and the arising difficulties because of my knitting. I was constantly knitting and there was no moment during the day where I didn't work on something. Even during meals I had my knitting next to me and I think that not only the repetitive movement of the hands, but also the calculations and specific practical project planning that is needed to construct a garment, was the only thing that was calming and soothing during these troubling times.
Even today, I still find that after long periods of straight knitting I am not only feeling much calmer, but I am always astonished when I happen to see my face right afterwards, because it totally reflects that. I do look much calmer, too! I find this very fascinating."
Whether you need some therapy knitting to start the new year, or just some inspiration, come by the shop this month to see La Maison Rililie's "Menage a Trois" shawl, "La Gekka" jumper and "Diane" cardigan.
DECEMBER

FIONA ALICE
Fiona Alice is a Canadian knitwear designer, originally from Halifax, Nova Scotia, but now resides in Helsinki, Finland. Fiona has always loved to travel and often incorporates inspiration from new cities and landscapes into her designs. While she was living in London, England, Fiona published her first book, Take Heart: A Transatlantic Knitting Journey, with Pom Pom Press in 2015. Fiona is continuing to work with knitting publications and yarn companies while also exploring her new home in Finland.
Stop by the shop to see the Gneiss sweater as seen in Amirisu issue 14, the Virva collection as seen in Laine Issue 3 and the Tuli cowl.
NOVEMBER

PAULA PEREIRA
Paula is a legitimate "carioca" as they say in Brazil, as she was born in the beautiful city of Rio de Janeiro.  She has been living in São Paulo, the largest and most cosmopolitan city in Brazil, for the last five years.  Paula has a degree in architecture and marketing, and learned to knit ten years ago.  Since then she has been dedicated to designing wearable and fun to knit garments and accessories.  She is passionate about textures, shaping, and smart details in handmade knitwear.  Paula has multiple influences, having lived in Canada and in California where she dove deep in studies of Tibetan Buddhism and also obtained her yoga teacher degree, and these experiences are reflected in her work.
OCTOBER

LAURA NELKIN
Laura lives in the Fingerlakes region of New York, where the sunny season is short leaving plenty of time to be indoors knitting. Though she has a degree in apparel design, she took to knitting years ago and hasn't looked back (though she does make most of her clothes). Laura is a consummate maker, her hands are always busy! Currently she is obsessed with her side-to-side Novus construction and finding new ways to apply that architecture to her sweater designs. She is also deeply in love with lace, beads and colour and incorporates them into her design work whenever possible!
This month we are displaying these three great patterns of Laura's, the Lace Mash Up, Reversible Undulating Waves Cowl, and the Novel-T.  Come by the shop to try touch, feel, and try them on!
SEPTEMBER

ALICE CAETANO
Designer of the month is back after a summer hiatus with local favourite Alice Caetano. 
Alice Caetano is a graphic designer, knitter, cat lady, and night owl, originally from Brazil and raised in The Netherlands. She likes to approach knitwear like all design projects – with concept development, sketching, thinking of silhouettes and details, still keeping in mind the knitting process and the future life of the project as a functional garment.
Stop by the shop to see Diesis (from PomPom Autumn 2017), Isometric Scarf, Minamo, and Dashes and pick out your next knitting project!
MAY

OLGA BURAYA-KEFELIAN
Olga Buraya-Kefelian learned knitting from her mother at a very young age while growing up in Belarus. It wasn't until she was in her mid-twenties that her knitting developed beyond a hobby, and a distraction from the hardships of military life, into a career in knitwear design. Now a published author of several books on knitwear, she resides in Alexandria, Virginia, while she continues to work on her brand, olgajazzy, and collaborates with numerous prominent yarn companies like Brooklyn Tweed, woolfolk, Quince & Co, and magazines such as Pom Pom Quarterly, Making, Amirisu. She draws her inspiration from industrial and architectural fields, combined with her passion for European and Japanese design, resulting in knitwear designs infused with innovation.  When she is not busy designing, she travels extensively to teaches classes and workshops nationwide as well as internationally.


Stop in this month to see samples of Olga's Ten-Ten Wrap, Kune-Kune Shawl, and Aranami Shawl.  And next month, Olga will be in Amsterdam giving two full-day workshops at Stephen & Penelope!
APRIL

MELANIE BERG
German designer Melanie Berg is a favorite of both clients and staff at Stephen and Penelope. Melanie's use of colour and texture always leads to really fun projects to make and wear.  Her sometimes unexpected combinations can be elegant or simple, and work well in just about any combination of yarn and fiber. Stop by the shop to see the magnificent details of True Colors, On the Spice Market,The Miller's Daughter and Quicksilver in person.
MARCH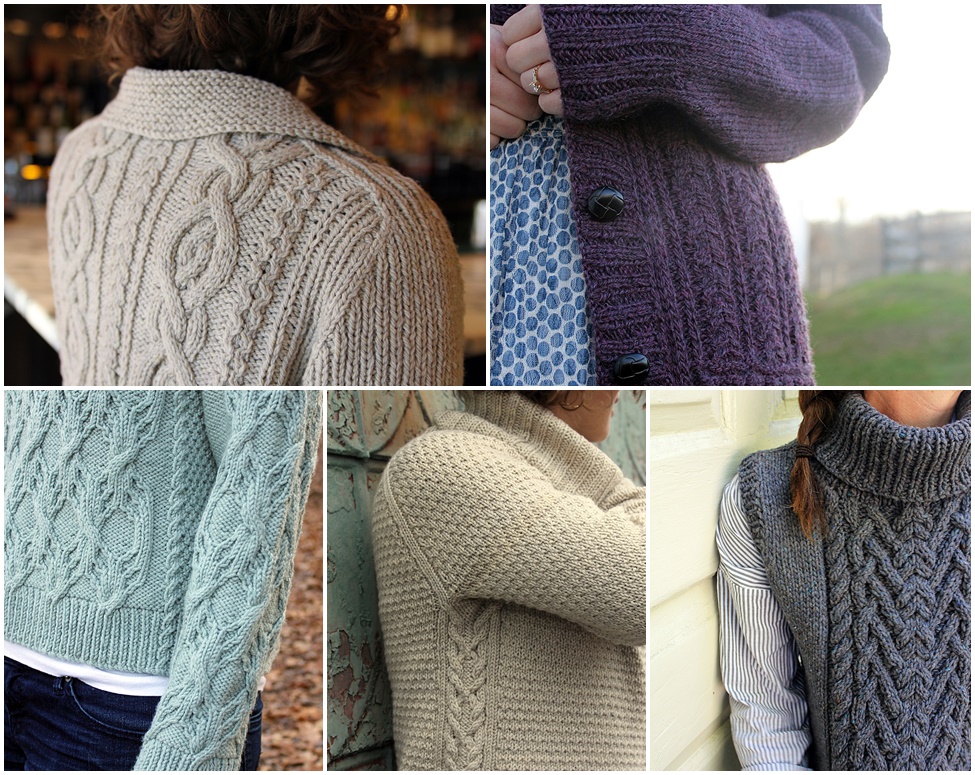 THEA COLMAN
Thea became a knitwear designer almost by accident. After working in various advertising agencies, she took a break to be home with her young daughters and fell into knitwear design. 

Thea's designs are wearable, comfortable, and always have great details and well-considered textures.  She mostly designs women's garments and accessories; using cables, lace, and little details to make designs that are classic and wearable, but just a bit unique.  Throughout the month of March stop in to see Negroni, Mamie Taylor, and Vodka Lemonade on display
Thea has also designed a hat pattern named after Dutch gin - Genever. This beautiful colourwork hat is made to be knit in the always classic Brooklyn Tweed Shelter. Stephen & Penelope customers will get $2 off the pattern price! Stop by the shop to get your copy of Genever! Read more about Genever, and how the crossing of Malia (owner at Stephen & Penelope), Thea, and Andrea Rangel's paths in Shetland inspired this design on Thea's blog.
FEBRUARY

SUSAN CRAWFORD
Our very special Designer of the Month for February is Susan Crawford. This Designer of the Month is actually coming to Amsterdam to show us her samples in person! 
We first fell in love with Susan's work with her books A Stitch in Time Volume 1 and 2.  The pair of books bring to life vintage period knitting patterns spanning the years 1920 - 1959. The pair comprise a gorgeous vintage pattern collection.
Susan's most recent book, The Vintage Shetland Project is the culmination of the several years Susan has spent researching early 20th Century knitting in Shetland. Susan has painstakingly recreated hand-knitted garments from the 1920s to the 1960s from the Shetland Museum's archives and created patterns from these vintage items.
Join us on 17 February in Amsterdam to meet Susan, view samples from the book and hear a presentation about this new project and to hear about the forthcoming book!
Samples from the book will be on view only during the event, and as a special treat, you can also shop Susan's line of yarns on the weekend of the 17th and 18th of February.
JANUARY

ISABELL KRAEMER
Our Designer of the Month for January is Isabell Kraemer. Her stunning contemporary designs have been published in Laine Magazine, Amirisu and Vogue Knitting among others. She has also produced beautiful designs for Malabrigo Yarns, Quince & Co and Swan's Island… all in her signature streamlined and contemporary style.
Isabell is a qualified dressmaker who became a knitwear designer almost by accident! People kept asking her how she made things, so she published her notes on her blog. When she discovered Ravelry she gradually started to publish more and more designs. It wasn't long before she had gained a large and dedicated following for her fresh, wearable, and modern patterns.
Until the end of the month we have Humulus, Bavaria, Aileas, Ashes, and Arwen on display from Isabell. You can purchase her stunning patterns through us in-store, or via her Ravelry store.
DECEMBER

NATASJA HORNBY
Our December Designer of the Month is a little closer to home.  Natasja Hornby is the woman behind the striking designs of Moonstruck Knits. Born in South-Africa, raised on the Dutch island of Texel, Natasja now lives and works in Amsterdam.  Although she is formally design trained and has been teaching textiles and arts for over a decade, she is still relatively new at designing knitwear. She's inspired by the life in the city - it's flamboyant people, it's art and it's architecture – but also by wind-swept Texel.  Natasja's designs are wearable, unpretentious and fuss free, but never boring or generic. To her, knitwear should be an eye-catcher, but also a shield against the weather.
Until the end of the month we have three gorgeous Moonstruck Knits samples in-store, Neruda, Tycho and Maan. Make the time to come and see them, they're worth the trip!
NOVEMBER

CAITLIN HUNTER
We've been eyeing Caitlin Hunter's designs for a while now and we're super excited to have her as November's designer of the month. Originally from Alaska, she now lives in the forests of Oregon, and the influence of place can be seen in her work. Her designs are innovative and stunning, intended to be treasured for a lifetime and beyond. Caitlin's designs also reflect her philosophy "knitting is like any challenge in life- just take it one row at a time and you will be surprised at what you can accomplish!" Caitlin sent us many fabulous samples so stop by and see Tegna, Orha, Sunset Highway,  Birkin (as seen in Laine Issue 2) as well as Zweig (as seen on our Instagram) in store!