GARN STORIES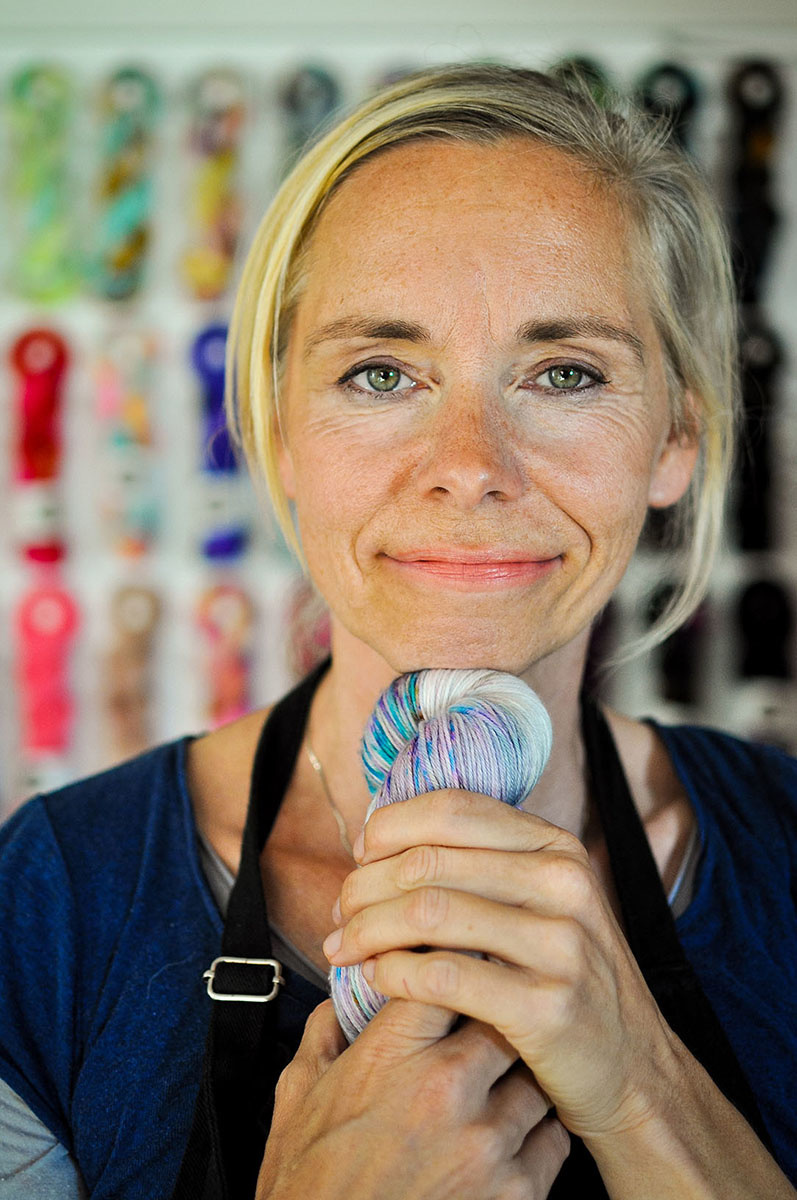 GarnStories is a small artisan hand-dyeing studio located in a small town in Northern Germany. Anke Mönning launched her business in 2015. Back then, she was living in Hamburg, working as a freelance copywriter, and knitting in every spare minute.
Her initial vision for GarnStories was to offer high-quality and hand-dyed yarns from suppliers all over the world. Yarn that she would love to knit with. Being used to working creatively, she soon started experimenting with colours and dyeing techniques - and was hooked right away!

In 2017, she moved from Hamburg to her grandmother's 160 year old half-timbered house in a small town. For three years, she and her partner rebuilt and renovated the house and set up a workshop in the former granary. She now says that she has everything she'd ever dreamt of: beautiful, ample workshop space, a growing flock of animals, nature right at her doorstep, and fantastic support from a lovely people in town whenever needed. 

One thing that Anke has noticed recently: when she moved from the city to a small town, her colour taste changed, shifting from bright and bold to subtler and more muted. However, she is as eager as ever to explore the endless universe of colours. Anke says the best thing about running GarnStories is to see how fibre people all over the world turn her yarn into beautiful projects, telling stories with yarn and needles.
GIGGLINGGECKO YARNS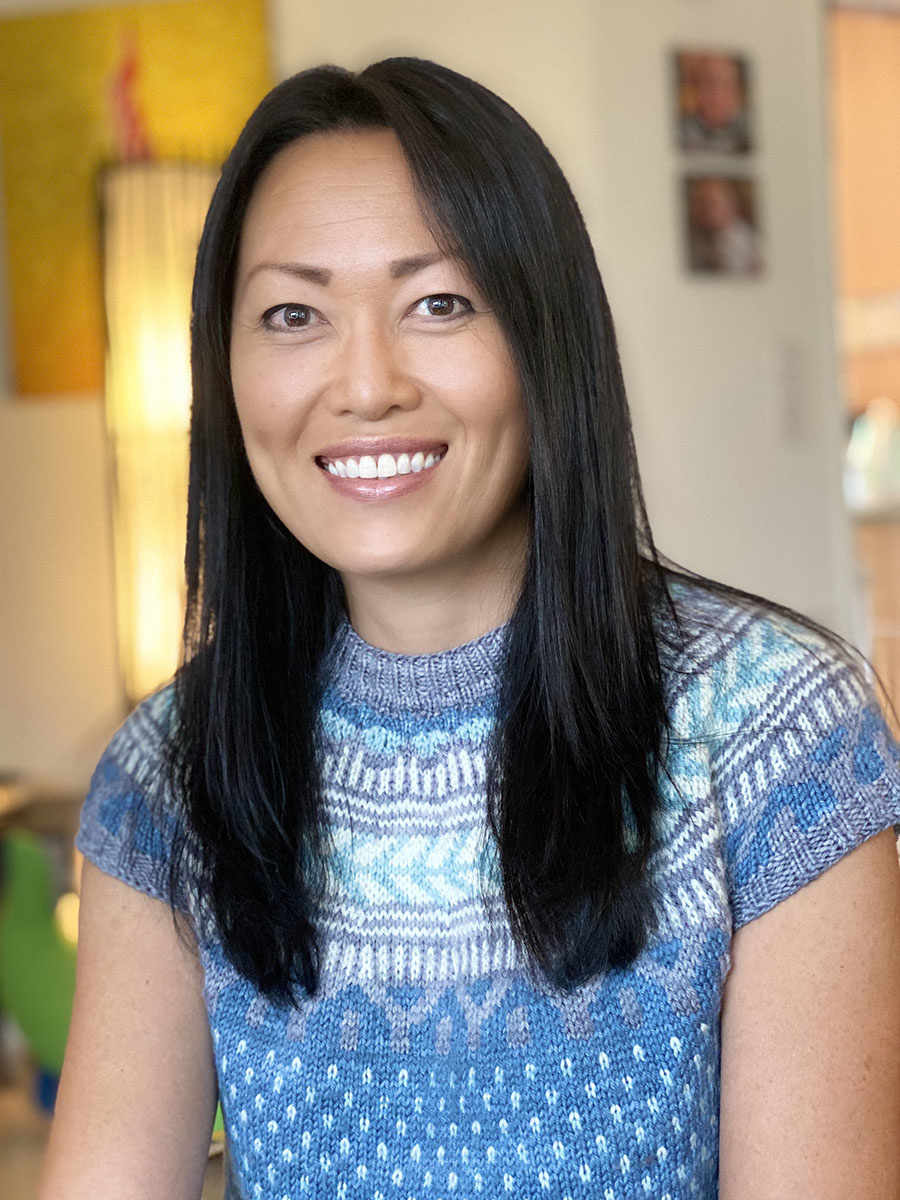 Judy Bantli is the dyer behind the yarn company GigglingGecko Yarns. Judy is American but has been living overseas for nearly a decade, first in Singapore, where she met her husband, and now in Switzerland where she lives with her Swiss husband and 15 month old son. In a previous life, Judy was a shoe developer and colour was a big part of her design role, so now she plays with colours on yarn instead of sneakers!
Judy started dying yarn in 2017: buying hand dyed yarn and shipping it into Switzerland was difficult and expensive, so she started GigglingGecko Yarns. Isabell Kraemer released Beloved Berlin cowl in September 2017 and this pattern, written for GigglingGecko's Socklandia Singles, got Judy's yarn onto lots of needles world-wide. The three colours of the cowl are still on high rotation in Judy's dye-pots today!

Judy is a keen knitter, though mostly knits at night after her son Kai has gone to bed. She loves knitting shawls and sweaters (like that gorgeous Soldotna in the photo!) and is currently working on a secret test knit for Gretha Mensen, the Fleur shawl by EspaceTricot and is about to cast on a sweater for Christmas. You can find the freshly re-stocked GigglingGecko Yarns Socklandia Singles on our website.
LIFE IN THE LONG GRASS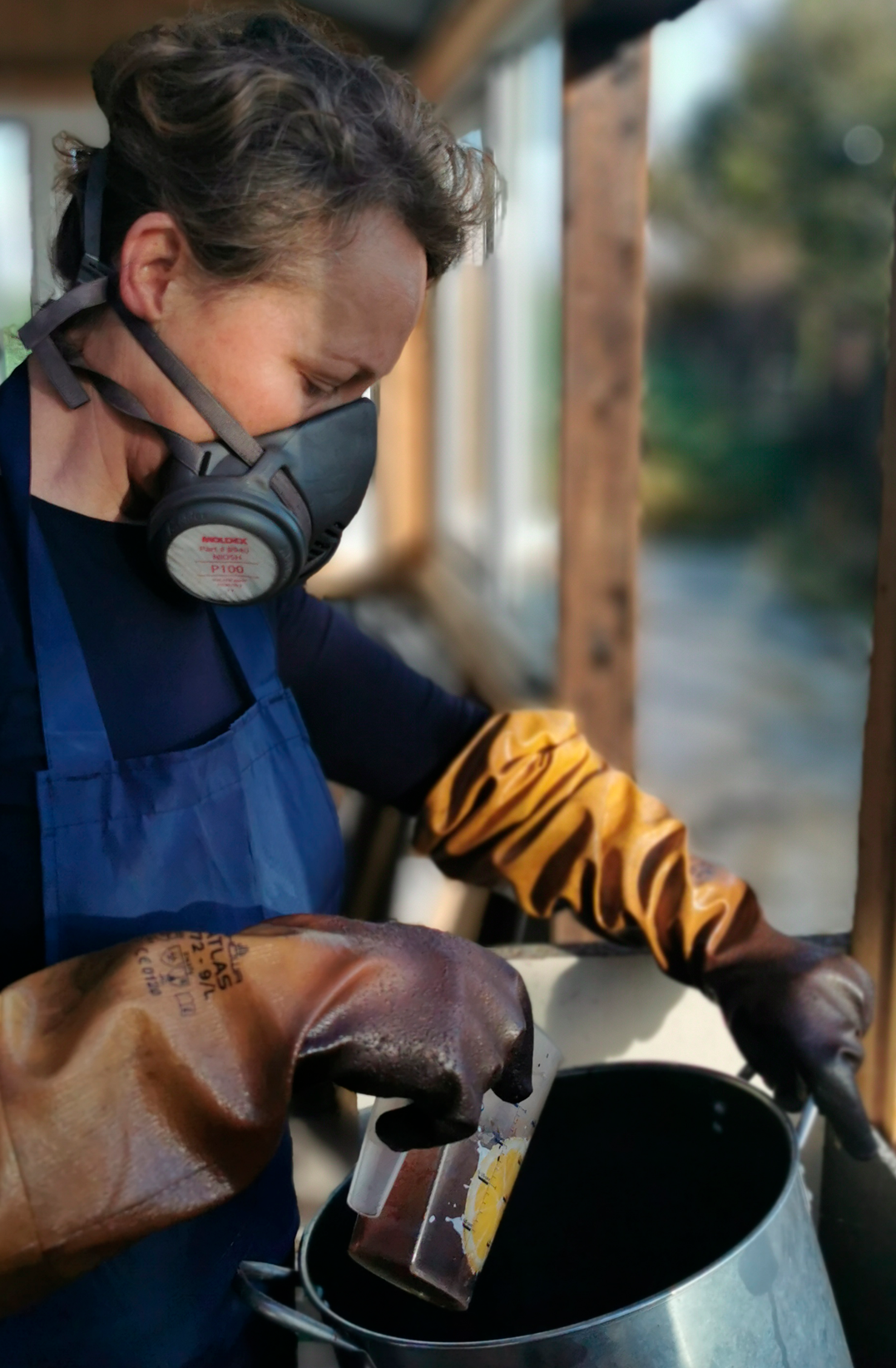 Caroline Niland started Life in the Long Grass when necessity hit in the middle of the economic recession in Ireland.  After fifteen years divided between London and Eivissa, Spain she returned home to find an Irish farmhouse to bring back to life.  
Growing up in Ireland surrounded by a farming and a local family business she remembers watching her mother, grandmother and great grandmother knitting and the value it brings.  With unemployment looming she pulled herself and her partner Johnny's skills and set up a dye studio onto the side of their farmhouse.

Influenced by her background in graphic design, life in London, Spain and Ireland she began dyeing colourways that reflect this experience with practical wear-ability in mind.  Five years later with a large retailer base and a new studio in the countryside LITLG continues to develop and grow. 

"To work in a creative space and create jobs for wonderful local people and then endeavor to translate the colors of nature and life onto yarn is what Life in the Long Grass is all about".
QING FIBRE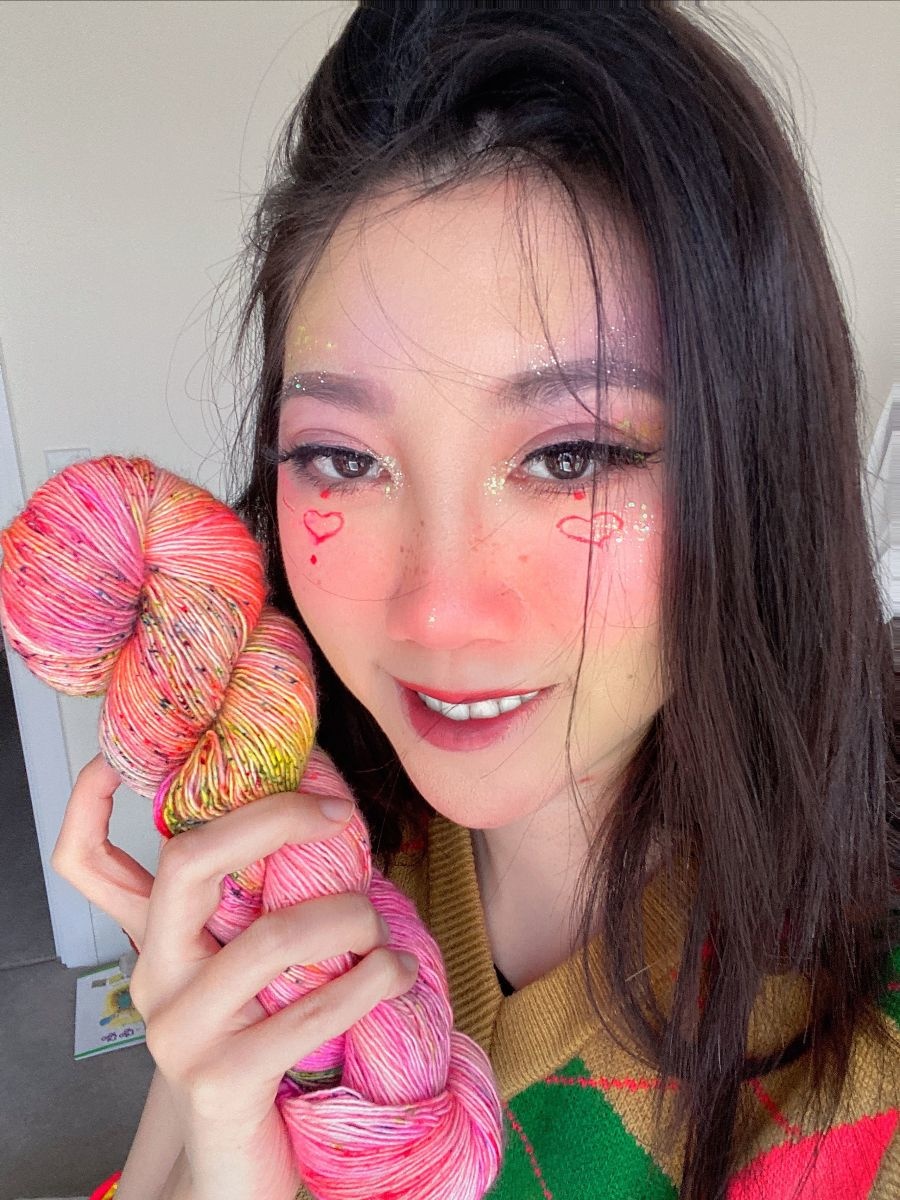 Layla (Qing Yang) first introduced her explosion of colour in 2016. Having been uninspired by the yarns then available, she took it upon herself to dye her own, and began creating her signature colours and founding the dyehouse Qing Fibre. Originally from Beijing, Layla attended art school, and originally trained as a landscape designer. She now works in South London with a team of like-minded creatives.
Inspired by colour everywhere, Layla and the dye team work together using their signature speckling and eye for colour and detail to create variegated ombrés and intense speckles which are a joy to look at and to knit.
They pursue creative dyeing techniques and unique colours that wow followers. New colour collections are released every season and their latest Spring/Summer 2020 collection was inspired by the bright fades and speckles on fish. 
Qing Fibre release their yarns on 15 different bases, ranging from functional wool to exotic cashmere, alpaca and cotton. These bases are sourced ethically from Peru and England.
Layla and her team take great pride in how much time goes into dying each skein, making each skein like no other.
UNDERCOVER OTTER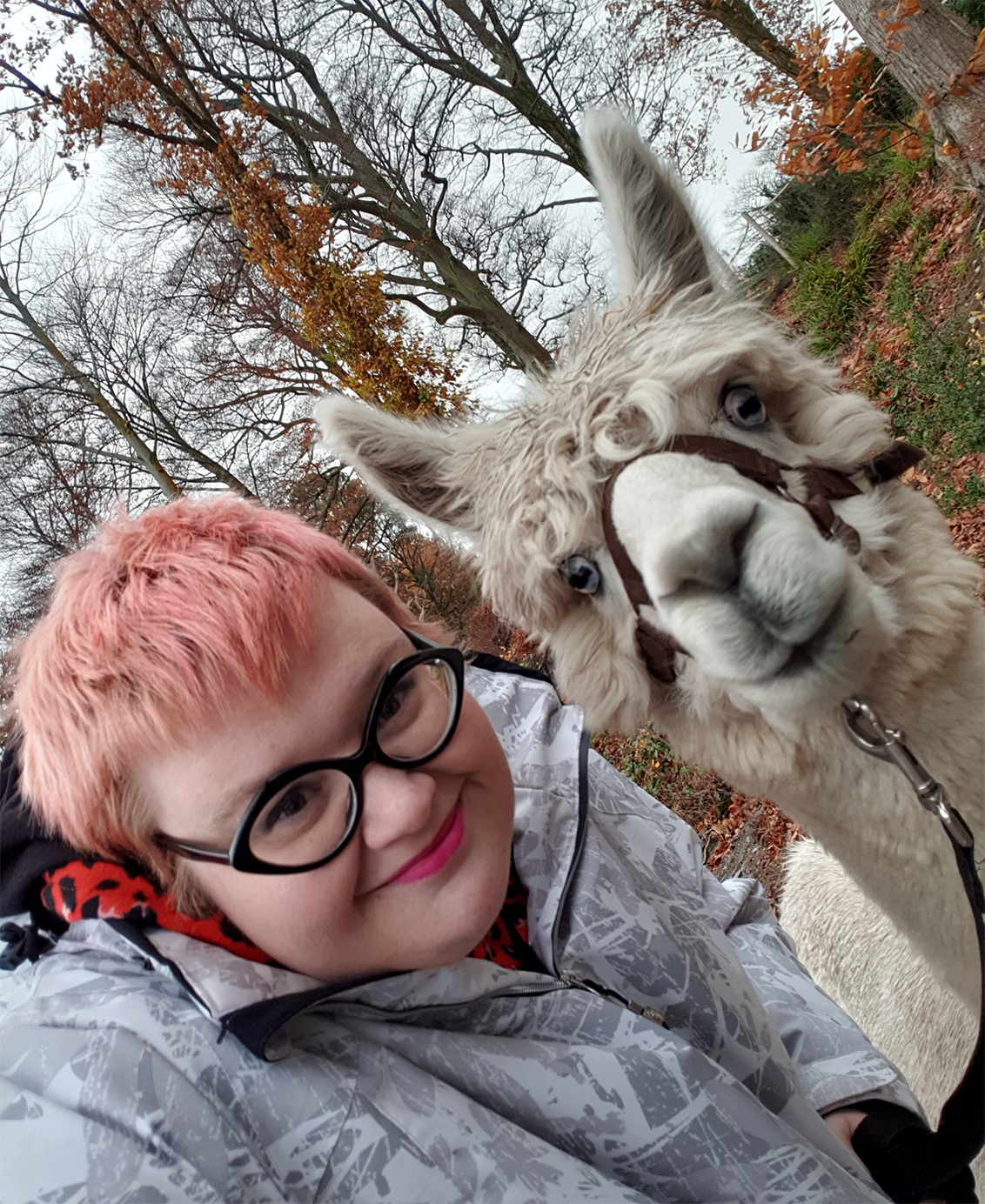 Undercover Otter has been assaulting your retinas with bright colours and questionable colourway names since 2014. The company is run by Aiden, who couldn't find the yarn they wanted to crochet and knit with, and decided to make it themselves. Working with Aiden is head tinkerer Marnix, who helps out with the twisting of yarn, building of contraptions and inventing neutral colourways (Aiden claims to suck at this). Undercover Otter yarns and fibres are characterised by saturated colours and they get their inspiration from classic horror movies, modern gore-fests and post-apocalyptic science fiction. They are in no way saying that any of the movies, books, plays and music that inspire them are great, some of them are stinkers, but Aiden and Marnix are suckers for bad movies in which you see more red food colouring than actual acting.
 
When dyeing their yarns, they experiment with different methods to get the desired effect. That means that the resulting colourways can have up to six layers of dye, in a multitude of techniques. Undercover Otter re-use 80% of all the water in their dye process by planning dyebaths in sequence, using soak water for dyebaths and filtering all water before it is re-used for next dyebaths. Whatever water they do have to dispose of gets another filtering and is neutralised before it's used as grey water that flushes the building's toilets. 
LOLABEAN YARN COMPANY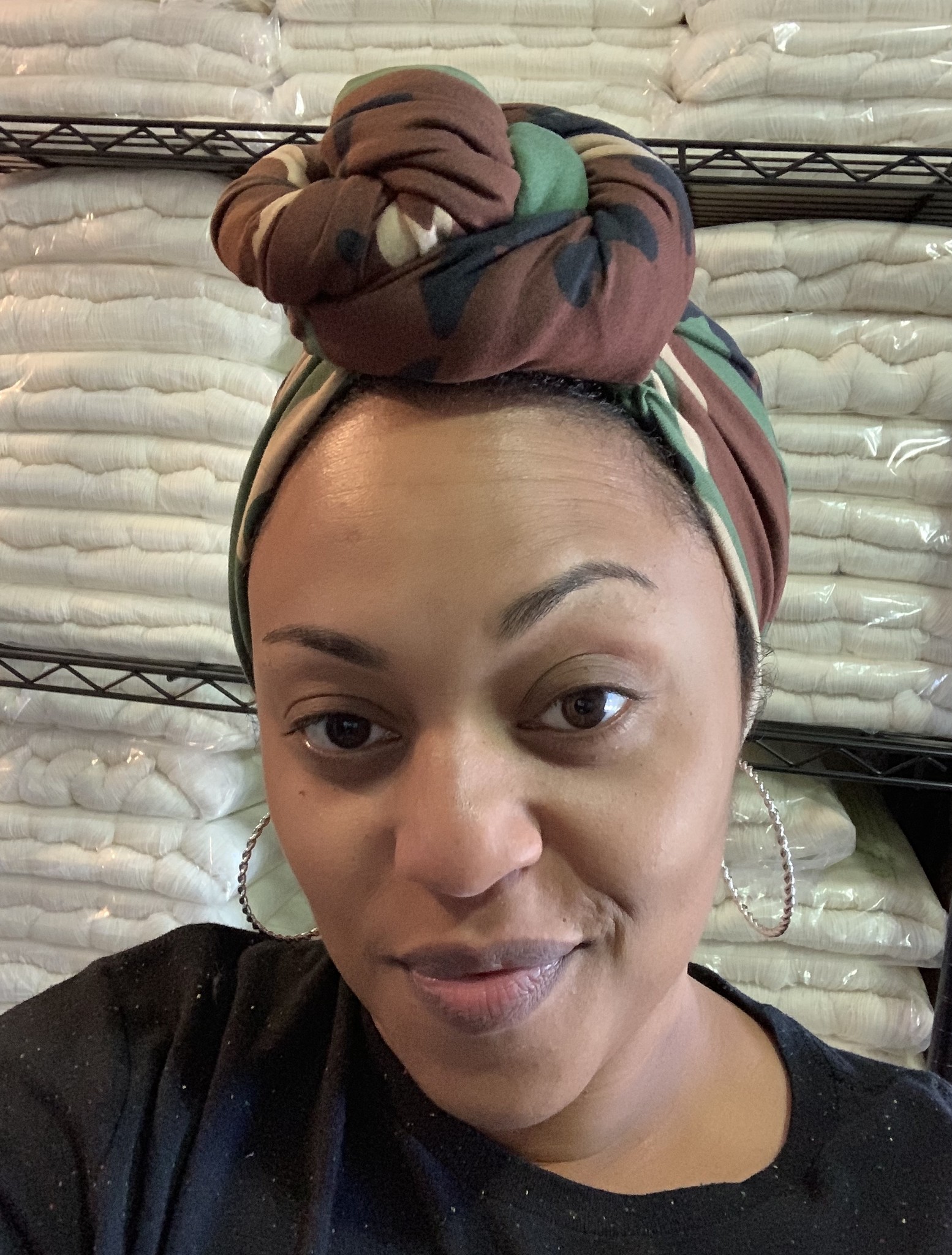 LolaBean Yarn Co. is the indie-dyed yarn company owned and operated by Adella Colvin, which was born from a series fascinating twists. Adella moved from New York City to Augusta, Georgia eight years ago, and found herself alone in an unfamiliar town after her husband was sent to Afghanistan for a year. A neighbour introduced Adella to the fibre community and the rest is history.
The catalyst for dyeing her own yarns came from the lack of yarn shops in her own community and the discrimination she faced as a woman of colour living in the American South.
Adella draws her inspiration from her rich life experiences, and from her love of music and films.  Having lived in many parts of the US as an Air Force military brat, before eventually settling in the Bronx, New York, she was exposed to a variety of cultures. In particular, different genres of music - hip hop, rock, Latin jazz, salsa, pop, country, reggae, and RnB all greatly influence her work as an indie dyer.
Her hope is always that her colorways provoke creative energy in others, inspiring them to expand their imagination, and create beautiful works of art.
Adella takes great pride in her work and, the joy it brings to others. It affords her the flexibility of working from home and spending time with her family, who are unquestionably her driving force. Adella is known for both speaking up against oppression and challenging others to do the same, and she uses a her business as a platform for practicing these values. Find the LolaBean 2-ply fingering base Navy Bean online and instore now!
FRU VALBORG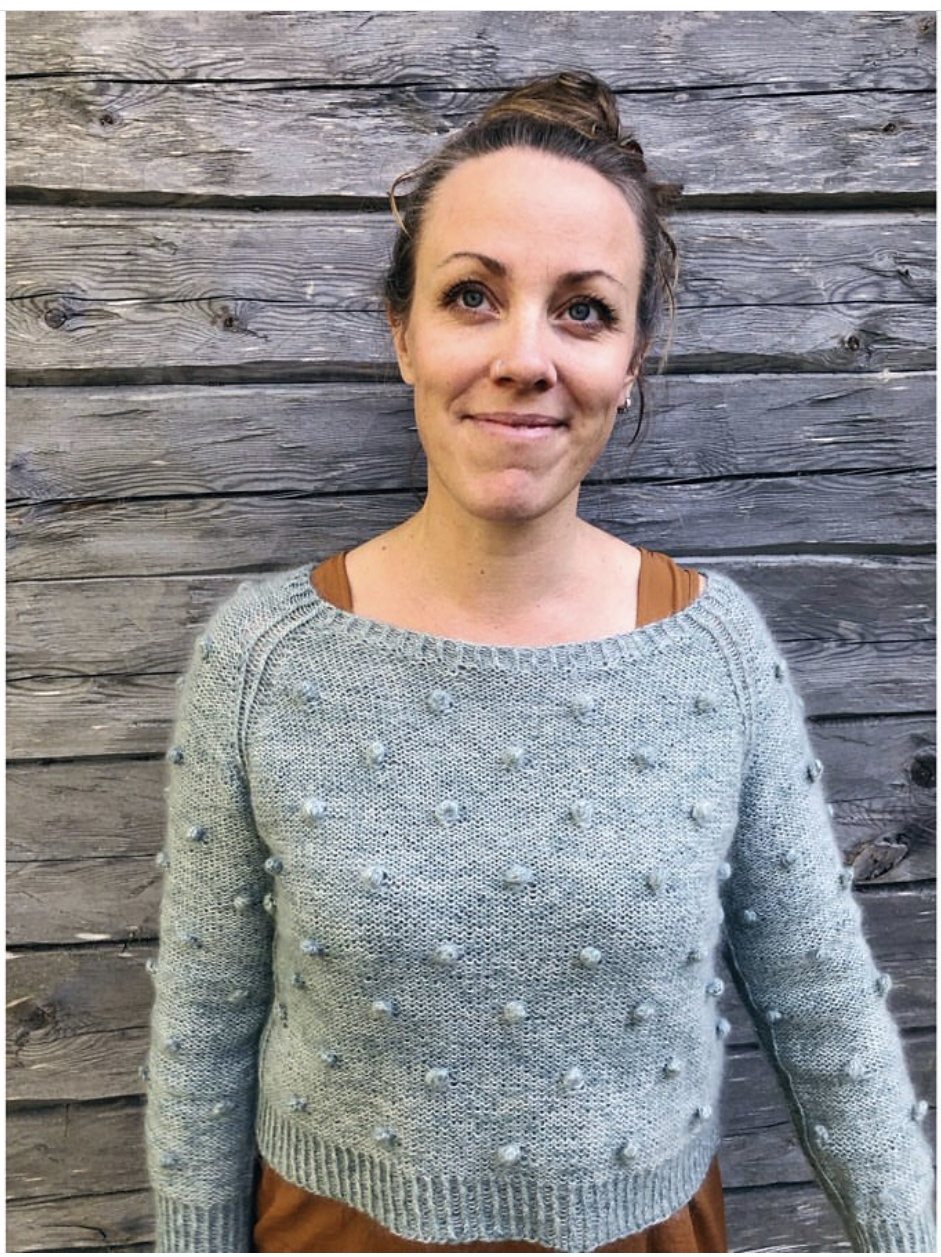 Fru Valborg is based in a small wooded town in Sweden called Eksjö. The company started around 2,5 years ago and has developed from a conventional internet yarn-shop into a fast growing hand-dyeing company with the world as our market. The founder and creative force behind the yarn is Petra Hafredal. With a lifelong interest for crafts and previous experiences as a ceramist as well as a textile teacher, her passion has always been creating, inspiring and developing new ways of embracing all the wonderful experiences that comes from colours, shapes and aesthetic expressions.
The name "Fru Valborg" is a homage to Petra's grandmother Valborg, working her whole life as a textile crafts teacher, thereby closing the circle across generations.

Our yarn is dyed by hand here in Eksjö and we sell online as well as through our partner Stephen and Penelope. The company is always on the move and we try to continue to develop both in terms of colours and qualities as well as exploring various ways to interact with our wonderful customers all over the world.

We take pride in every skein and truly believe that knitting is so much more than just knitting. It is about the creative process, the community, the inspiration and the art of the possible.
THE URBAN PURL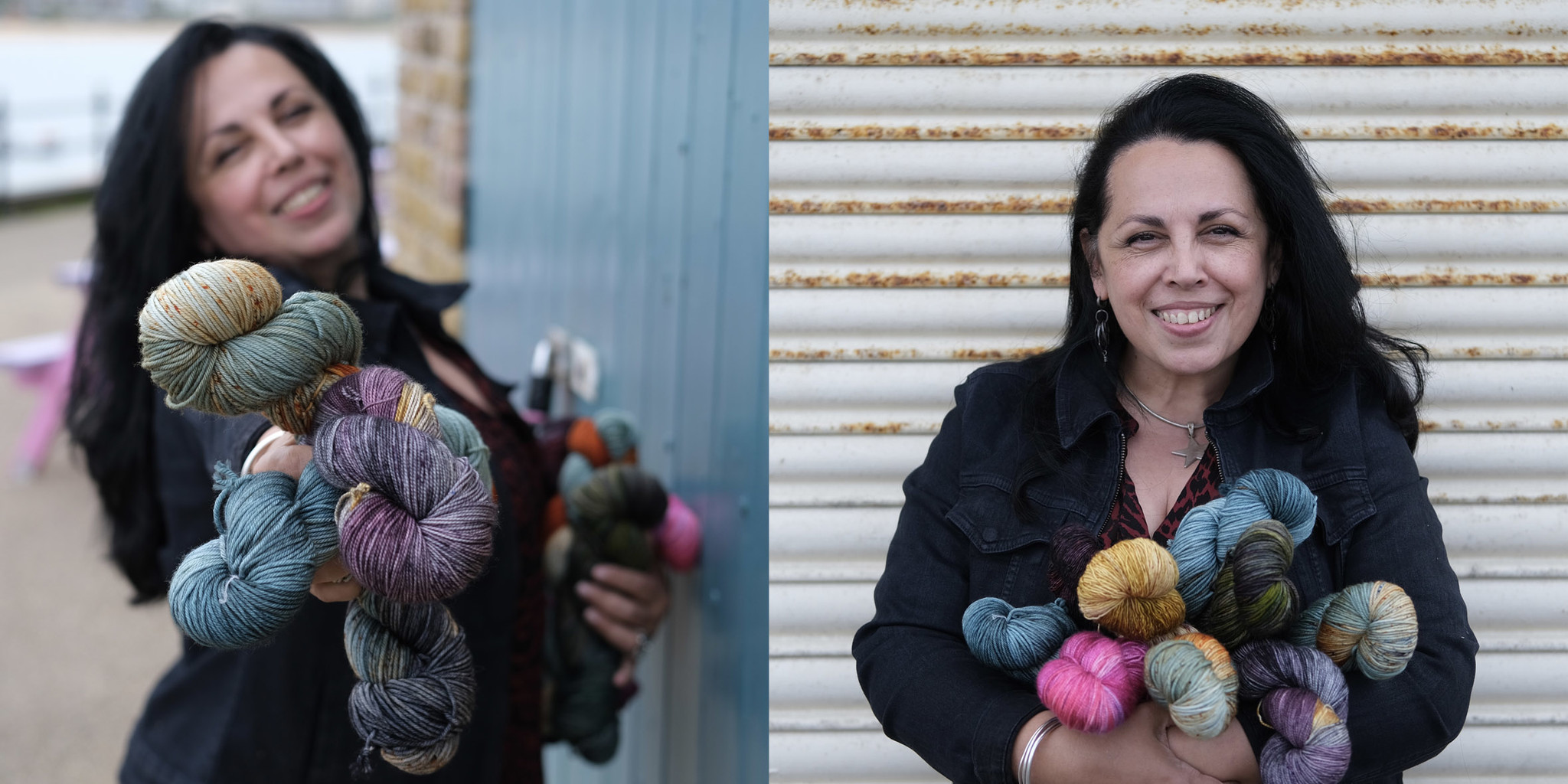 Leila Bux, the founder of The Urban Purl, is a one woman show, creating colours galore on yarn and fibre in her kitchen workshop in North West London.
A long-time crafter, knitter and crocheter, Leila began dyeing yarn as an ongoing extension of exploring creativity in colour, subsequently launching The Urban Purl yarn brand online in 2017.  Serendipity smiled on The Urban Purl allowing Leila to explore and develop more exciting and glorious colour combinations for you to enjoy after having attracted the attention of Stephen & Penelope in Amsterdam, who became her very first stockist, how cool is that! 
A culturally rich and diverse upbringing in West London has greatly influenced Leila's creativity, leading to a fascination with urban/cityscapes, the graphic imagery of urban dereliction and the colours generated by the natural processes of deconstruction (she's not emo or morbid, promise!) that imbues many of her colourways with an urban, gritty quality.  She is also known for her intricate semi-tonals, lightly peppered with speckles, that has become the brand signature.   
A maximalist at heart, Leila creates darkly blended moody colours, as well as rich and vibrant hues with or without speckles. Yarn texture, dimension and handle are key factors when choosing the right yarns for her colours and Leila constantly strives to keep her yarn choices luxurious yet sustainable, ecologically friendly and as cruelty free as possible.
WALK COLLECTION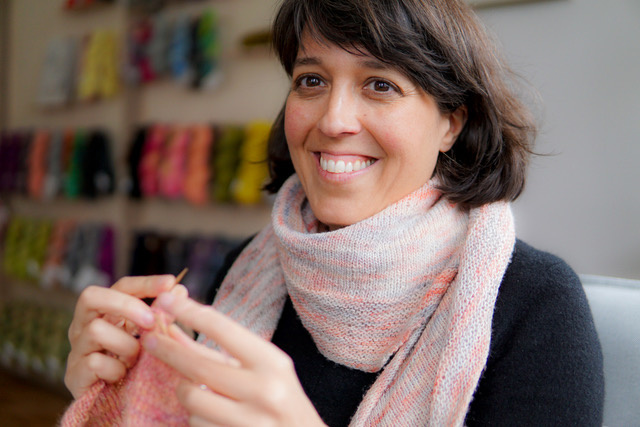 Cathrin of WALK Collection first introduced her hand-dyed yarn to customers in 2010, expanding on an existing business of bags and knitting accessories.  She credits her background as a dressmaker and her degree in business administration with helping her to succeed.
 
In addition to dying yarn she spins, weaves, crochets, latch-hooks, macramés, and of course knits!  We asked Cathrin if she has a favourite base to knit with or dye, and she tells us that though it's hard to pick favourites, the Cottage Merino's squishiness and Kid Mohair Lace's fluffiness are at the top of her list, they're great to combine too!
 
Walk Collection now involves a whole team who take care of dyeing and processing customer orders on a day-to-day basis, and Cathrin tells us that she loves the positive energy that comes from her team and that her dream is just to continue doing what she's doing, creating beautiful yarn and meeting amazing people from all over the world. 
GARNSURR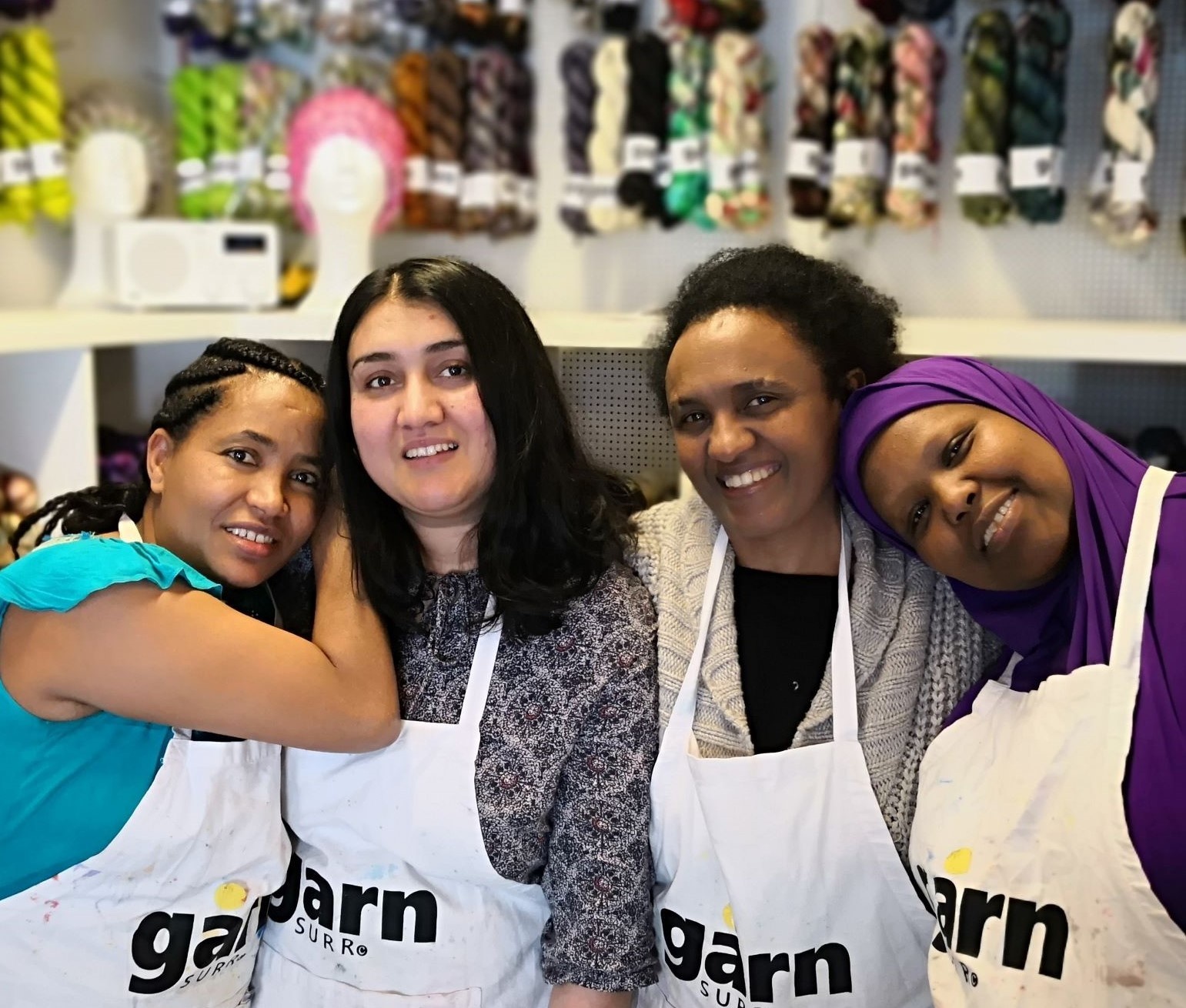 Garnsurr is an integration project and small dye house in the valley of Numedal in Norway.  Adult refugee women have taken control of the dye pots at Garnsurr. In addition to dying yarn, the women knit, learn Norwegian and learn the skills needed to run a shop.
 
Garnsurr believe in creativity, and that colourful stitches can make bonds between women from near and far. At Garnsurr, refugee women can construct a new identity - through creativity, language, and work. Garnsurr is a yarn with meaning!
UPDATE: sadly, in January 2020 Garnsurr closed their doors. We'll miss this vibrant yarn!
HEDGEHOG FIBRES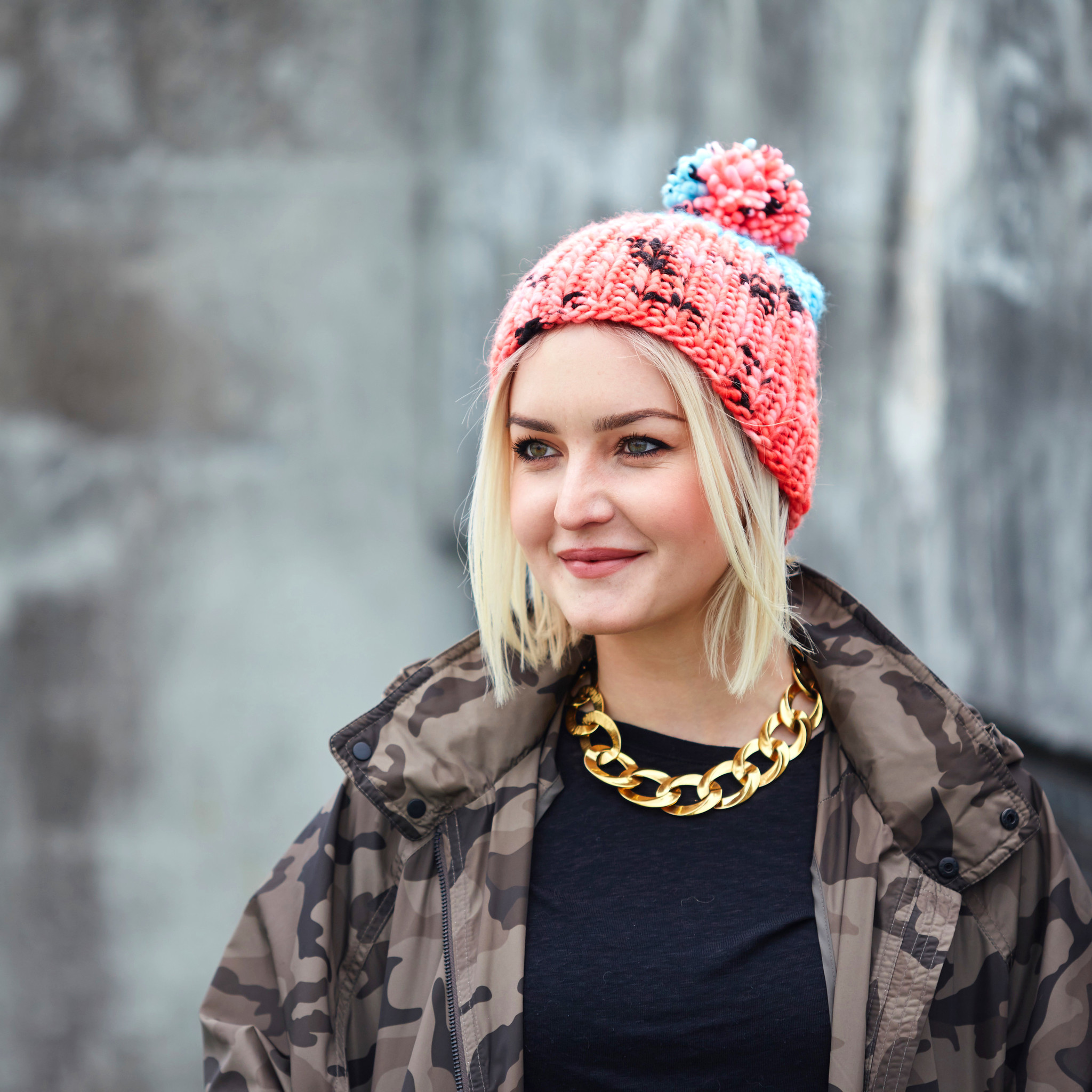 Owner and creative director Beata of HHF is originally from Slovakia (where her last name means Hedgehog) and has been dying wool full time since 2008 when an Irish economic downturn encouraged her to work for herself.  Beata loves creating new colours, changing things up, and staying current.
She says it's the colour that really draws her in, she loves moody speckles, complex dusty and dark mysterious colours, and right now - yellow!  She predicts that 2019 will be a big year for moodier colours and for textured yarns like the Alpaca Boucle she is dying exclusively for Stephen & Penelope.
As a company, Hedgehog Fibres is committed to animal welfare and the environment.  They are 100% opposed to mulesing, and have ensured that their suppliers provide only mulesing free yarn sourced from non-exploitive mills.  Beata also fosters dogs for her local animal shelter and the HHF studio is a dog-friendly space!  As part of their commitment to the environment, Hedgehog Fibres reuses and recycles materials whenever feasible and uses food grade acids in its dying process that readily biodegrades.