JANUARY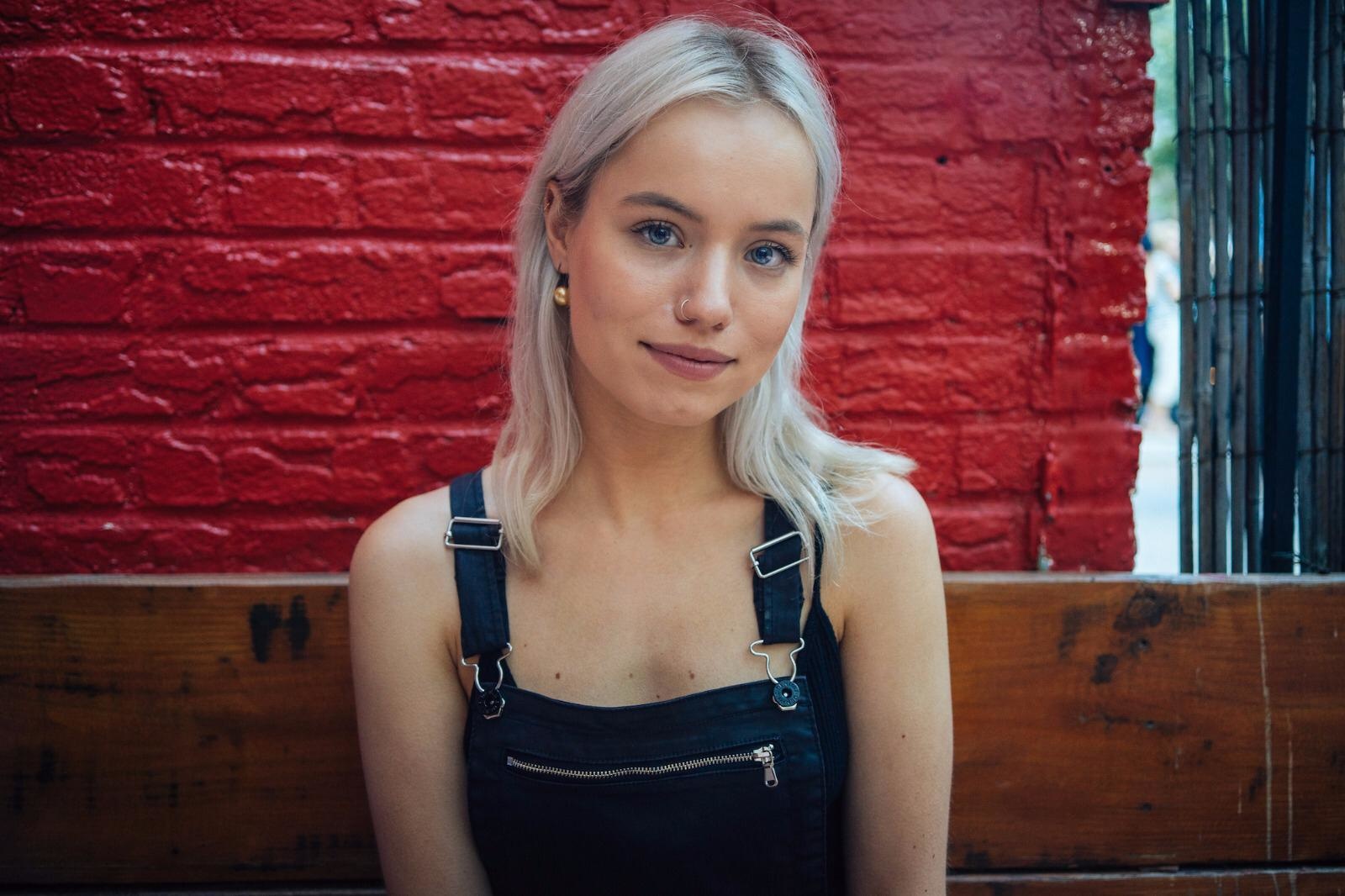 Flore is a member of our eCom team, so she's often the voice behind our emails and the hands that pack up all your lovely orders. She started with the team last summer and she says her favourite part of her job are her co-workers, whom she says make Stephen & Penelope a warm, inviting environment [thanks Flore!]. She also enjoys discovering all yarn related things, and that she learns something new every shift.
Flore's grandma taught her how to knit when she was a child, and over the holidays last year, they picked up their lessons again. Flore is now knitting her first hat with her grandma's help. Once she has the hang of things, she's planning to make a small selection of sweaters for her two dachshunds because they're always cold!
Flore is Dutch, but grew up in Mozambique, Italy, Belgium, and lived for over 10 years in New York City. Besides her new hobby, Flore is an illustrator and photographer and worked in Montessori schools and as an art teacher before she returned to The Netherlands. She's now studying for her bachelors in Psychology, with an interest in art therapy.
DECEMBER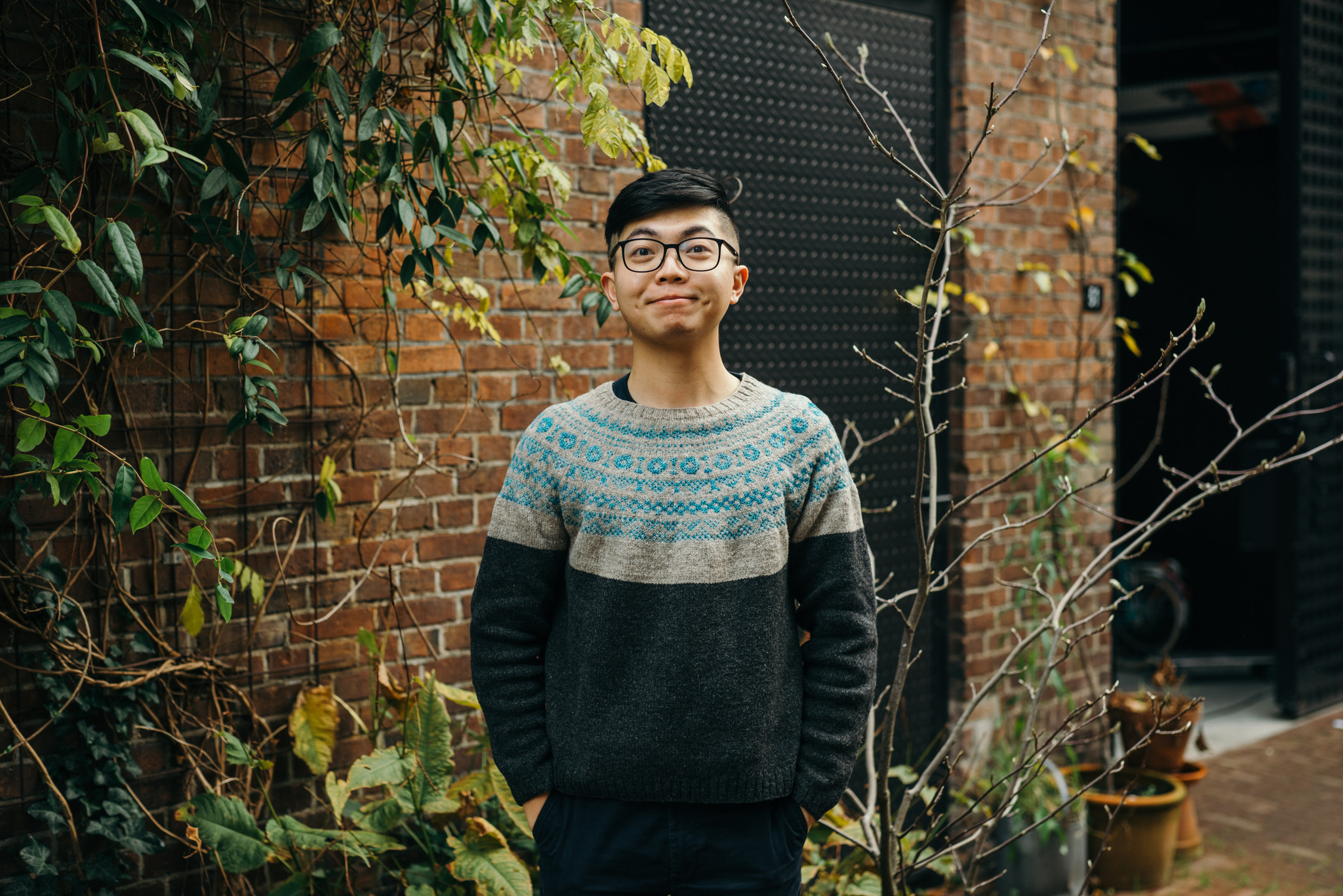 Scott started with us as a sales associate in the shop, and moved to our ecom team after pitching in to give the team a hand to send out all your MKAL packages. Scott loves talking to customers and helping them with colour palette options, especially for Westknits patterns.

His background in crafts stretches back to childhood, when he was taught to knit by his grandmother and how to crochet by his mother. As a teenager, he further developed his textile skills by working in his aunt's machine knitwear factory during summer holidays. Scott loves making hats and sweaters, especially if they feature stranded colourwork or cables. In the summer, he usually switches to mandala patterned crochet pieces, but right now he's working on Stephen's Extra Texture Sweater.

When he's not knitting (it's rare!), Scott is a keen baker and loves walking in the forest and checking in on his squirrel buddy. Scott is beginning to design his own patterns and his first hat will be published before Christmas. Keep an eye out! Scott is wearing the Richter Sweater by our colleague Julia Wilkins.
NOVEMBER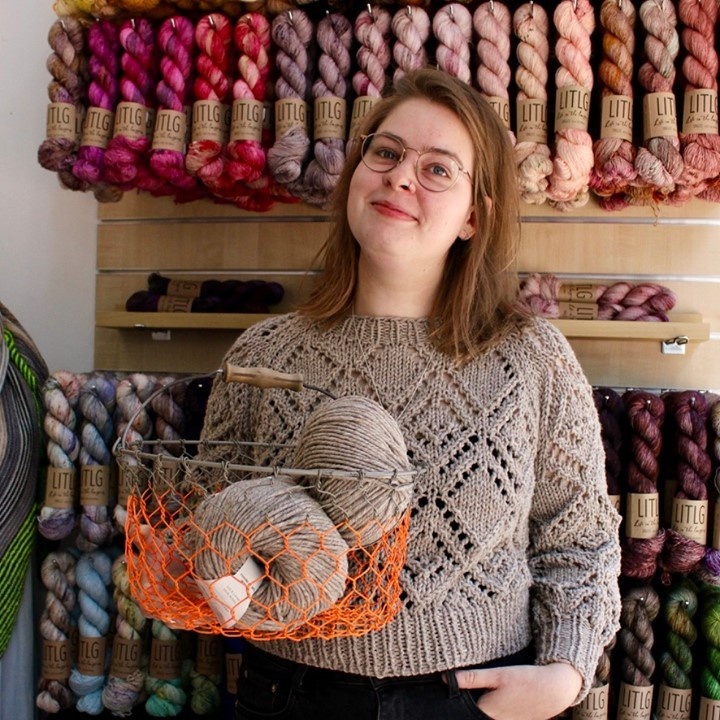 Willemijn joined our e-com team in May this year, but has recently moved over to Team Westknits where she now manages Stephen's project launches, communications and events. Willemijn was taught to knit by her mum when she was young, but thought it was too difficult, so she switched to crochet. In 2019, she fell back in love with knitting and hasn't been able to put it down since.
A committed lover of all things Scandinavian, Willemijn has lived in both Finland and Denmark, and has her sights set on Norway and Sweden next. She's also a huge Moomin enthusiast, and completed her Masters degree in Denmark.
In addition to working at Stephen & Penelope, she is a professional musician, songwriter and music teacher and is planning to release her first EP soon! Willemijn is currently working on her Slipstravaganza and a Richter sweater, and in this photo she's wearing the Clotilde Sweater by Knitting for Olive which she knit from De Rerum Natura Cyrano.
OCTOBER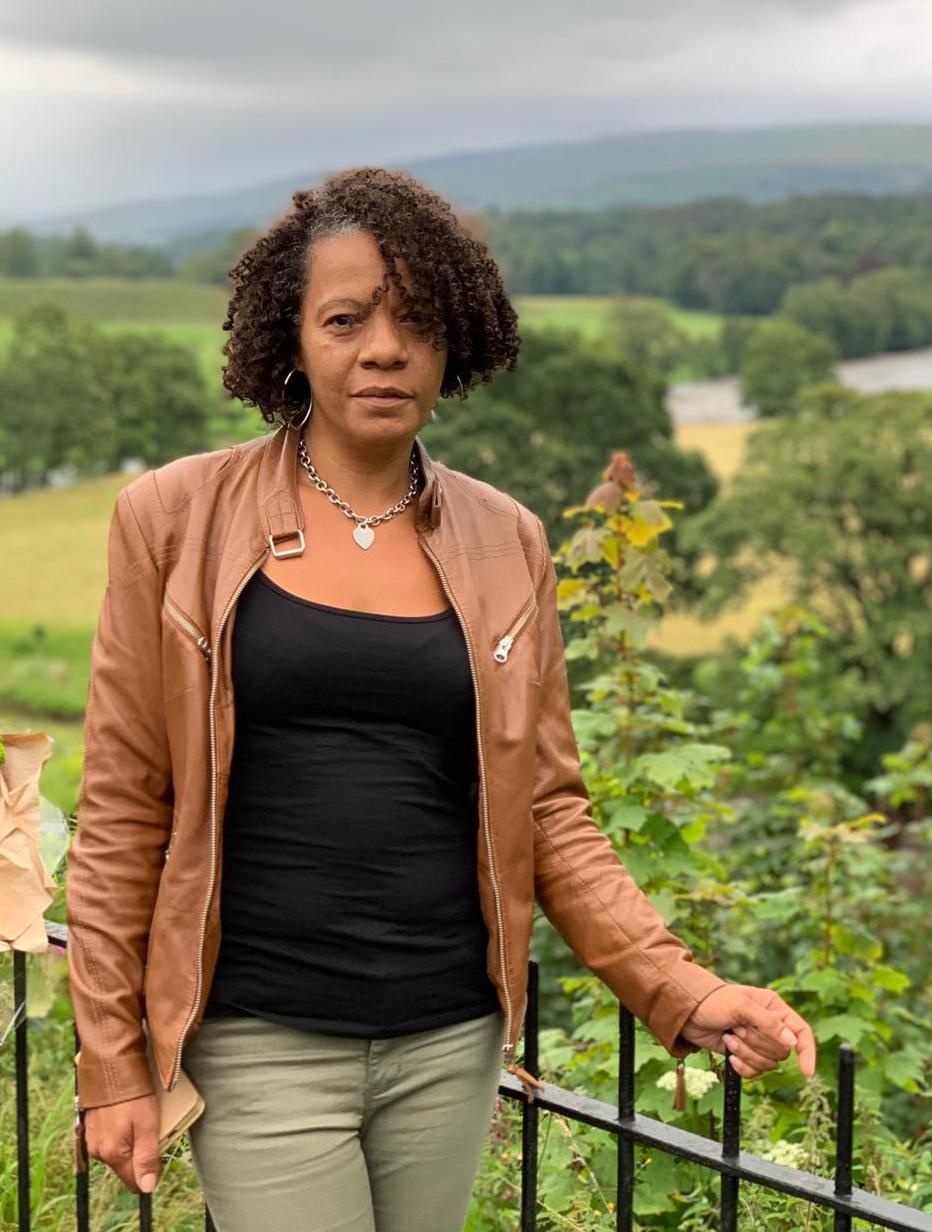 Nadine is the in-house graphic designer for Westknits and Stephen & Penelope. She joined the team in December 2019 and currently works remotely from London. Nadine handles the layout of knitting patterns for Stephen West, and works on graphic projects for both the Stephen & Penelope and Westknits social media, websites and book publications.
Graphic Design was Nadine's dream job from the age of sixteen, and she went on to get a degree in the discipline to allow her to follow her passion for working with images and text to create something beautiful. She loves working with Stephen's spectacular designs and being part of such a creative and inclusive team. 
She was taught to knit as a little girl by her mum, and picked her needles up again a couple of years ago with the determination to learn to follow patterns. She's currently whipping up a batch of Tiny Sweaters, a free pattern from Malia Mae.
Nadine is also an artist, and painting and drawing are a major part of her life. She has less time to paint at the moment though, because she's proud to be a hands-on nana to her beautiful 2 year old grandson Kye and beautiful 1 year old granddaughter Storm. 
SEPTEMBER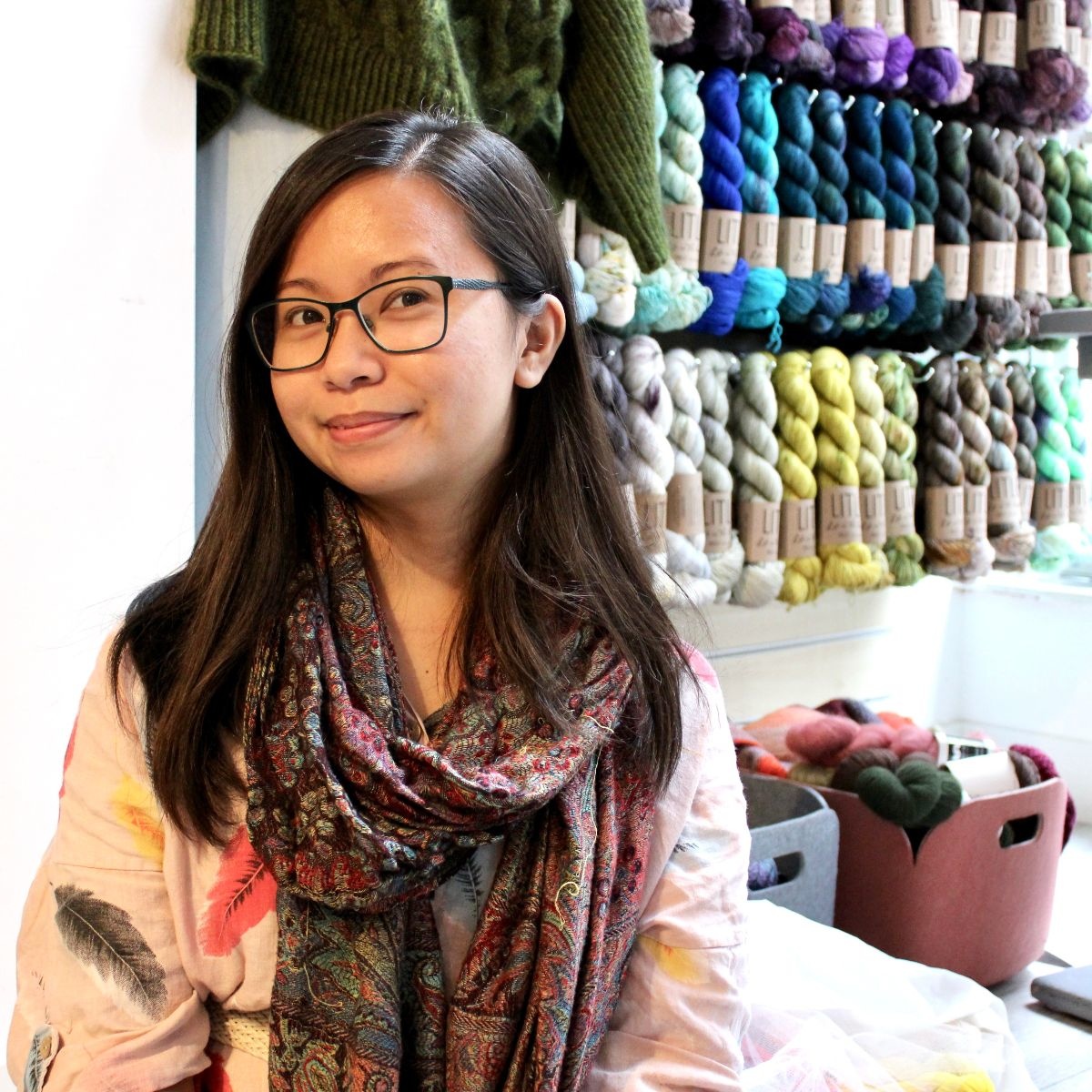 Lara started with us at Stephen & Penelope in March 2020 to work in our e-commerce team. She considered herself a beginner knitter when she joined us, but has quickly learned a lot about yarn characteristics and choosing the perfect yarn for her own projects and for our customers in just a few months. She loves playing with colors and helping knitters find their ideal color palettes, and is very excited to participate in her first Westknits Mystery Knit Along (MKAL).
Lara was born in the Philippines and lived there as a child. She grew up mainly in California and is now just living in the moment and enjoying her time in the Netherlands. Outside of work, Lara likes reading, exploring new places and cuisines, crafting, and secondhand fashion.

She learned how to sew and cross-stitch from her mother, and her interest in knitting blossomed while browsing through craft stores.She credits friends and colleagues at Stephen & Penelope with helping her develop her knitting skills, and she now enjoys making sweaters. She's currently excited about mixing her swap meet finds with her handknits and trying out new textures. 
AUGUST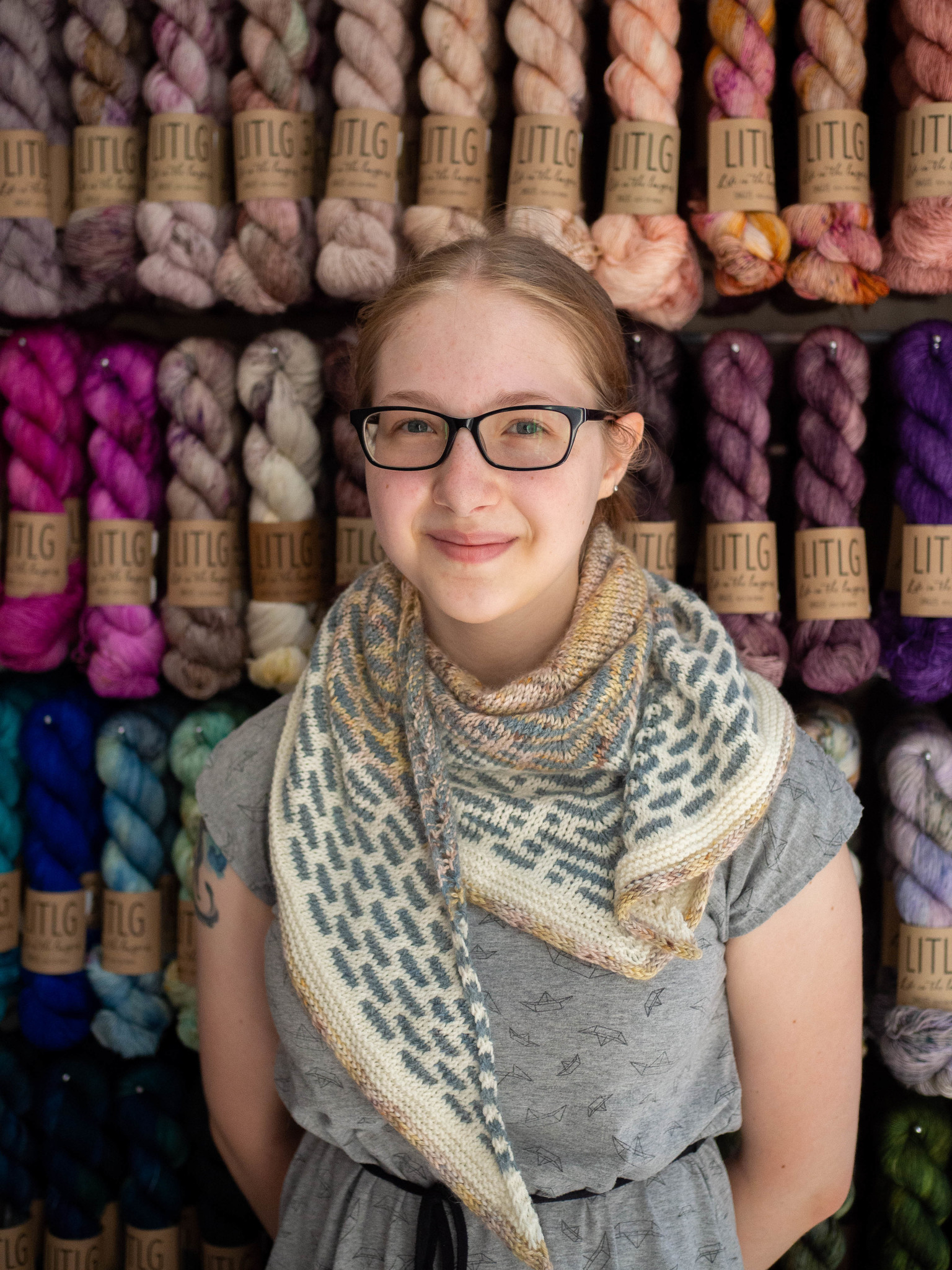 Madeline is our featured employee for August. She's been working at Stephen & Penelope for a little over a year and since she's still in school, she works one shift on the weekends, and occasionally picks up extra shifts during vacation. Madeline is our shop assistant and makes our stitch markers, notions sets and works on special projects like the Yarn A Long. 
Madeline learned to knit from her grandmother, and while she's practiced the craft off and on for years, it's only been in the last year and a half that she's finally picked it up as a regular hobby. Madeline and her family moved to Amsterdam 3 years ago from the US, so now that her grandmother is an ocean away, Madeline's mom Emily (the Systems manager here at Stephen & Penelope and our featured Employee in October last year) is on hand to help out with new techniques.

The gorgeous shawl that Madeline is modelling is her newly completed Rockpooling shawl by Helen Stewart (available on Ravelry and Etsy), which features a blue alpaca yarn spun by Madeline's grandmother. As well as knitting, Madeline practices several other crafts, including sewing, origami, painting and drawing.
JULY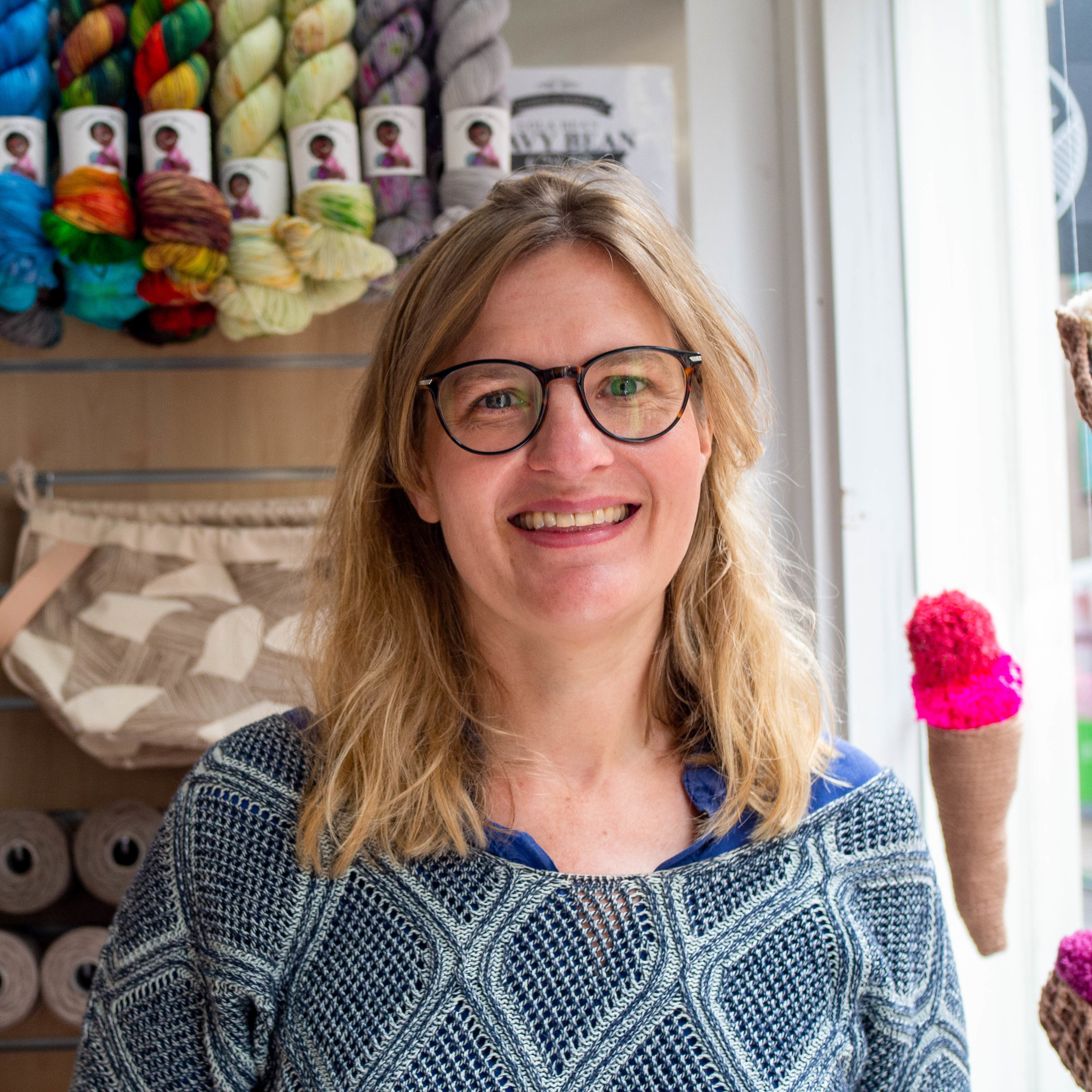 Rosanne has been working at Stephen and Penelope since March 2019. She started as a shop associate and is now co-manager of the store together with Lidy. Her favourite part of the job is helping customers to figure out which combination of palette, pattern and yarn is perfect for them. 
She loves that there is a strong tradition and handicrafts in the female line of her family. She learned the basics of knitting from her mother, but is also extremely grateful for all the lovely youtube teachers who have helped her along the way. She enjoys learning new techniques and is now working on her first all-over fair isle sweater. 

Outside of work, Rosanne enjoys going out for walks with friends and her dog, reading, listening to podcasts and deep diving into documentaries at the International Documentary Festival in Amsterdam.
MAY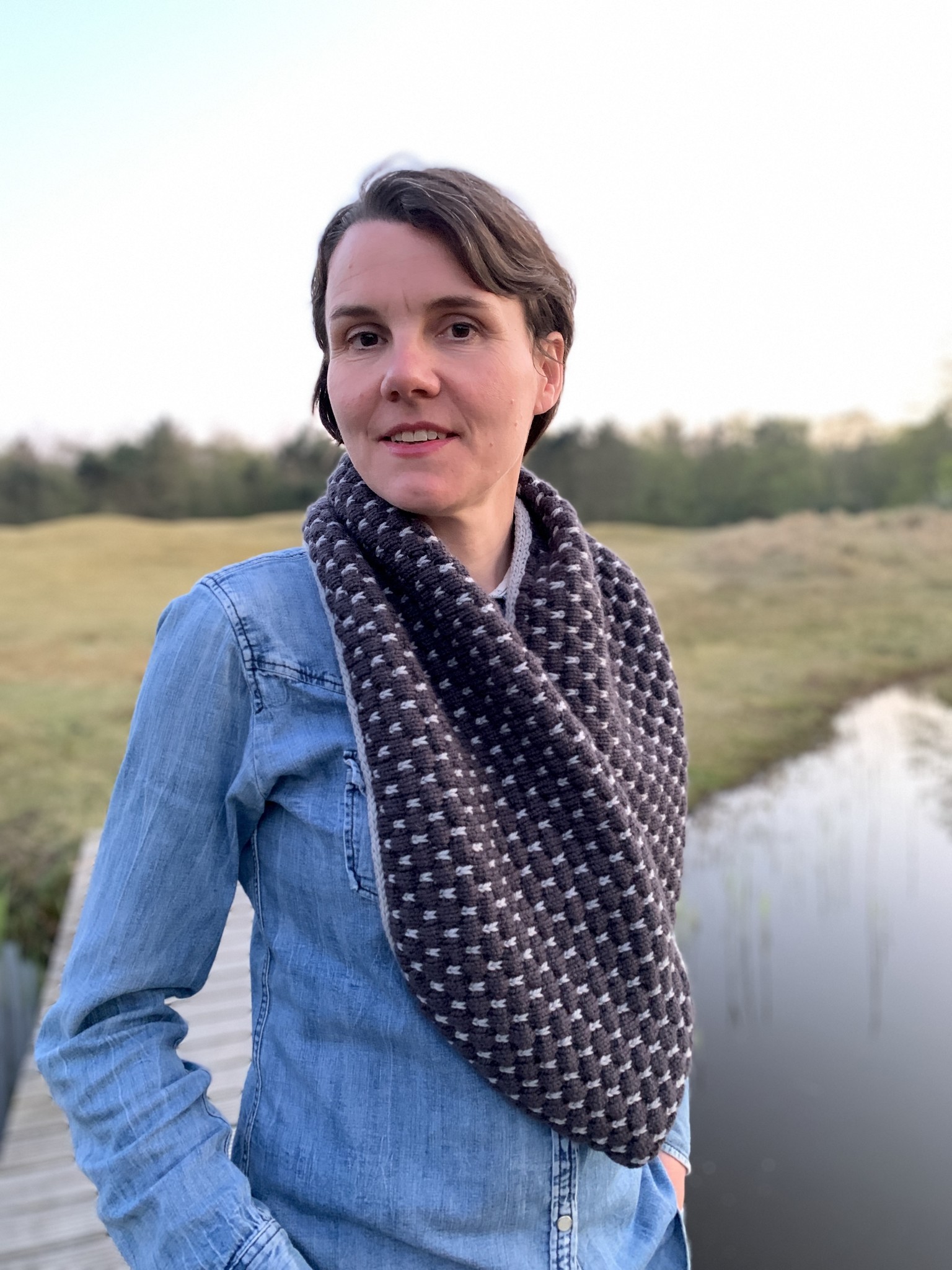 Julia is the Stephen & Penelope Operations Manager. She was born and raised in Germany (the region of Frankfurt/Main) and moved to Amsterdam around 20 years ago to live with her best friend, now her husband. They have a son who was born 2008. He is on the autism spectrum and is the sunshine of their lives.
Julia worked for many years in the contemporary art world before making the switch to the contemporary yarn world in 2017. She has held a range of positions with the company, including working in the shop, managing our e-com department and now in senior management taking care of operations and HR. Julia is also our festivals manager and loves the opportunity to travel to events around the world to meet fellow yarnthusiasts.

Having always altered patterns to better suit her shape and tastes, Julia is now designing her own knitting patterns and loves sharing them with others. You can find her designs on Ravelry and in Issue 33 of Pom Pom Magazine. 
APRIL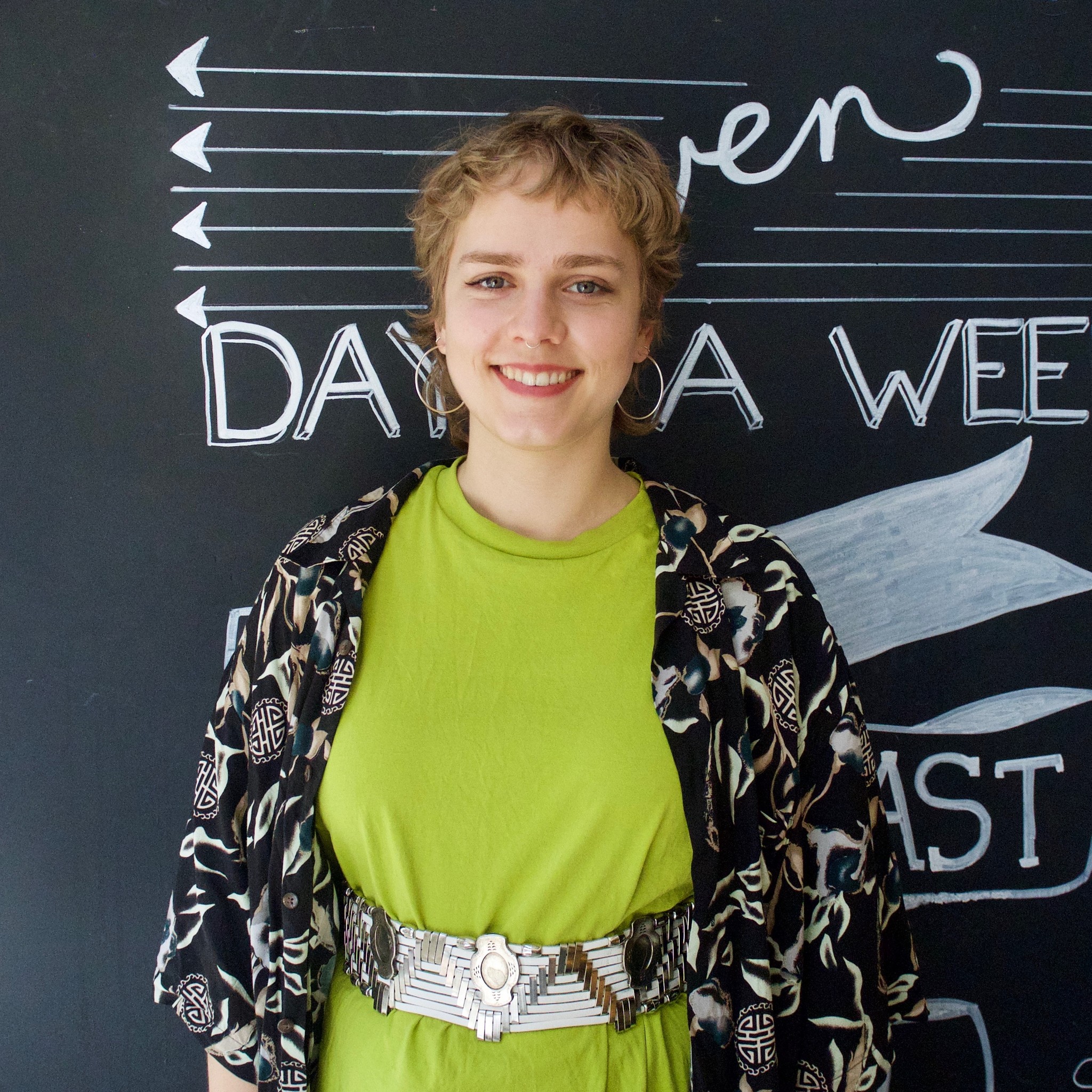 Emma has been working at our shop since May 2019. She particularly enjoys helping out beginning knitters feel more confident and knowledgable as she remembers herself struggling to find her way in a yarn shop. She loves getting to know the craft community better, learning from others and sharing her own knowledge too.

Emma learned to knit in primary school, and received further help from neighbours in the village she grew up in near Nijmegen. In her teen years, she was taught how to sew and quilt by her American mom who's a wonderful quilter. In high school, Emma knit her first sweater with the help of her lovely aunt. She feels very honoured to have been raised up around wonderful women  who could pass down their love and knowledge of textile techniques. 

Aside from knitting Emma enjoys going on trekking trips and hiking in nature. One of the most amazing trips she has completed was to Swedish lapland, where she walked part of the Kungsleden. One day she hopes to travel to Iceland to see all the amazing yarn shops, sheep and landscapes!
MARCH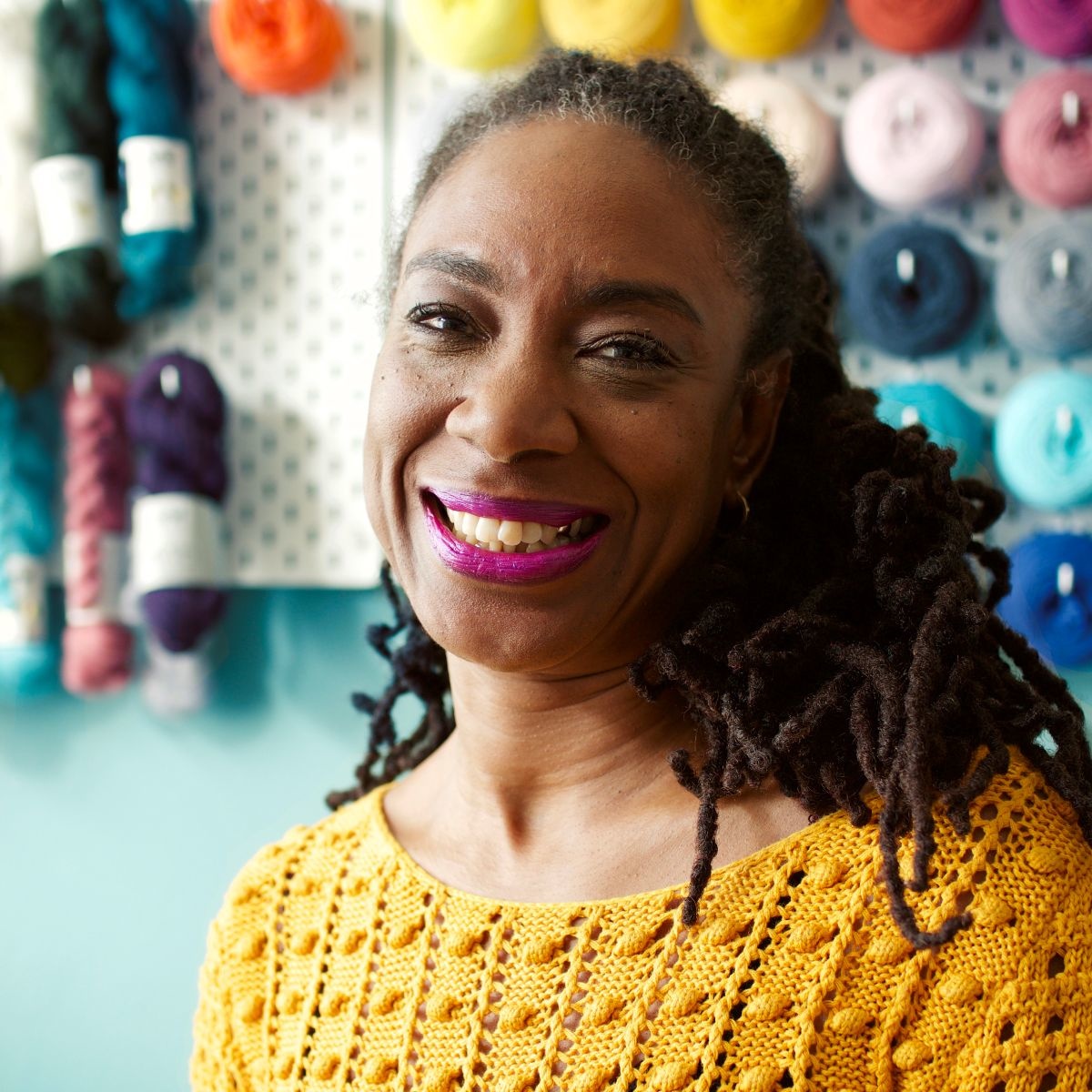 Angela is from London, UK and has lived in the Netherlands for ten years. She started working with us in May 2019, in the systems team, and is responsible for managing all stock-related changes in our inventory system. She creates new items in our systems, plans the photo projects and handles kit assembly

When she's not at the gym taking part in Body Pump classes, Angela loves making her own body butters and deodorants.  She also enjoys listening to different genres in music, dancing, attending concerts and festivals, reading and watching crime documentaries.

Angela says that being of Jamaican descent, she loves colour and has fallen in love with the array of choices that Stephen & Penelope has to offer.  It's for this reason she feels she'll start learning to knit – soon!
FEBRUARY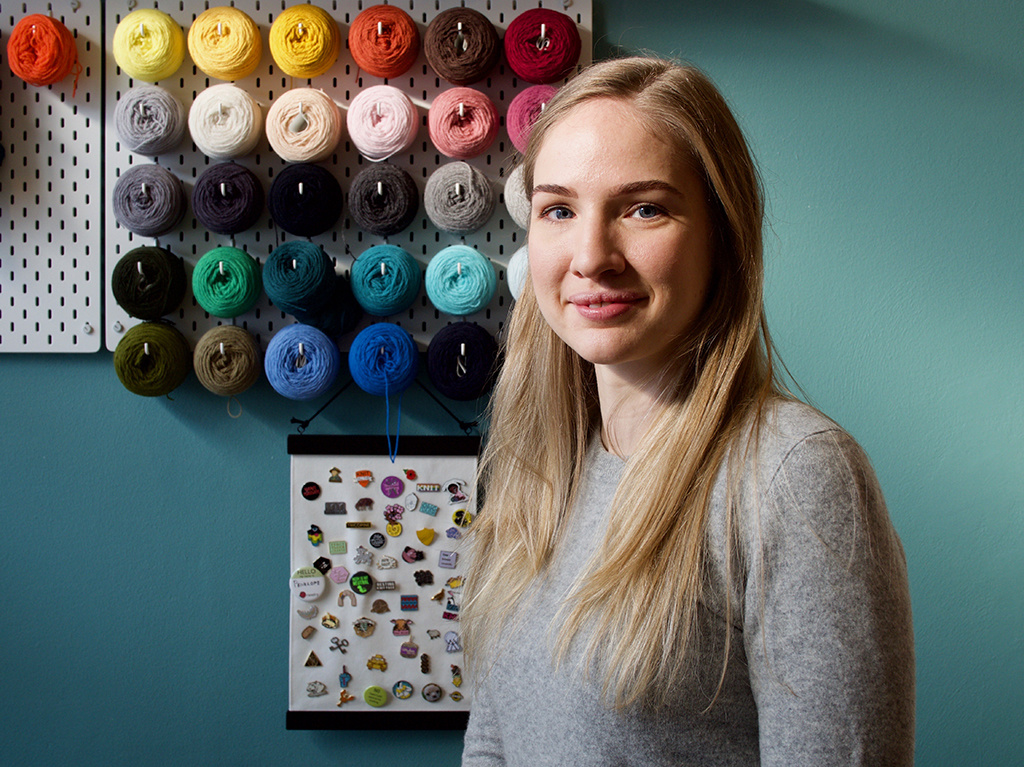 Jude has been working for Stephen & Penelope since September 2019. She started in our e-com and customer service department, and has since taken on new responsibilities within our back-end and wholesale operations.

Of Dutch-Irish extraction, Jude was born in the Netherlands but left as a baby, and returned last year to experience living in the country she started life out in. Like Stephen, Jude has a background in dance and performance. While working in musical theatre, she attended a knitting workshop to re-ignite a passion for the craft she learned as a child at school.

Affectionately called a 'baby knitter' by the S&P office team because she has yet to knit a Westknits pattern, Jude plans to change this by tackling the Flying Foxtail Wrap at some point this year - once she has mastered brioche! It will likely be in grey, her favourite colour.

As well as knitting, Jude crochets, reads, practises yoga, sings, and plays piano. She also loves hiking and climbing mountains, which the Netherlands fails to supply an opportunity for.
JANUARY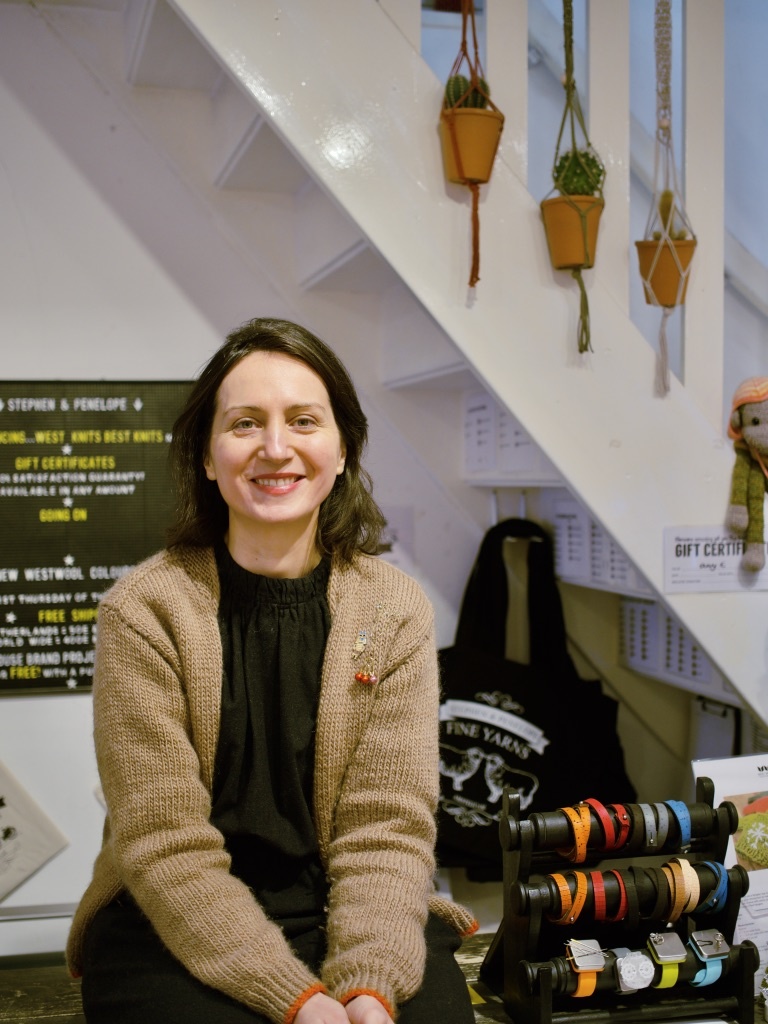 Monika is a Slovakian-born designer who originally moved to Amsterdam to pursue her study at the Art Academy. After finishing her Masters in Fashion Design, she worked in branding and product development. Becoming a mother changed her outlook on practices in the Fashion industry (exploitation of women and children, overproduction, the huge ecological footprint). She truly believes that we all have to look closely at our own choices. This community we all have created could be influential and serve as an example to the fashion industry. 

Growing up in Eastern Europe, Monika was exposed to, and became skilled in, different crafts. This influence and her love of crafts have grown over time and play a big role in her work.

She started to work at S&P in October 2018 and this is what she says about working here: "I love meeting all the crafters. I truly enjoy hearing their stories and finding creative solutions for their projects. This has been really rewarding so far. I see this as a unique opportunity to support S&P customers in producing a design of their choice and in customizing it into unique designs which fit their personal style. I like to see people coming back, proudly bringing with them a finished sweater or shawl."

Right now, Monika is working on a Richter Sweater, a test knit for Julia Wilkens Designs. She looks forward to meeting more knitters and seeing you again soon in the shop!
DECEMBER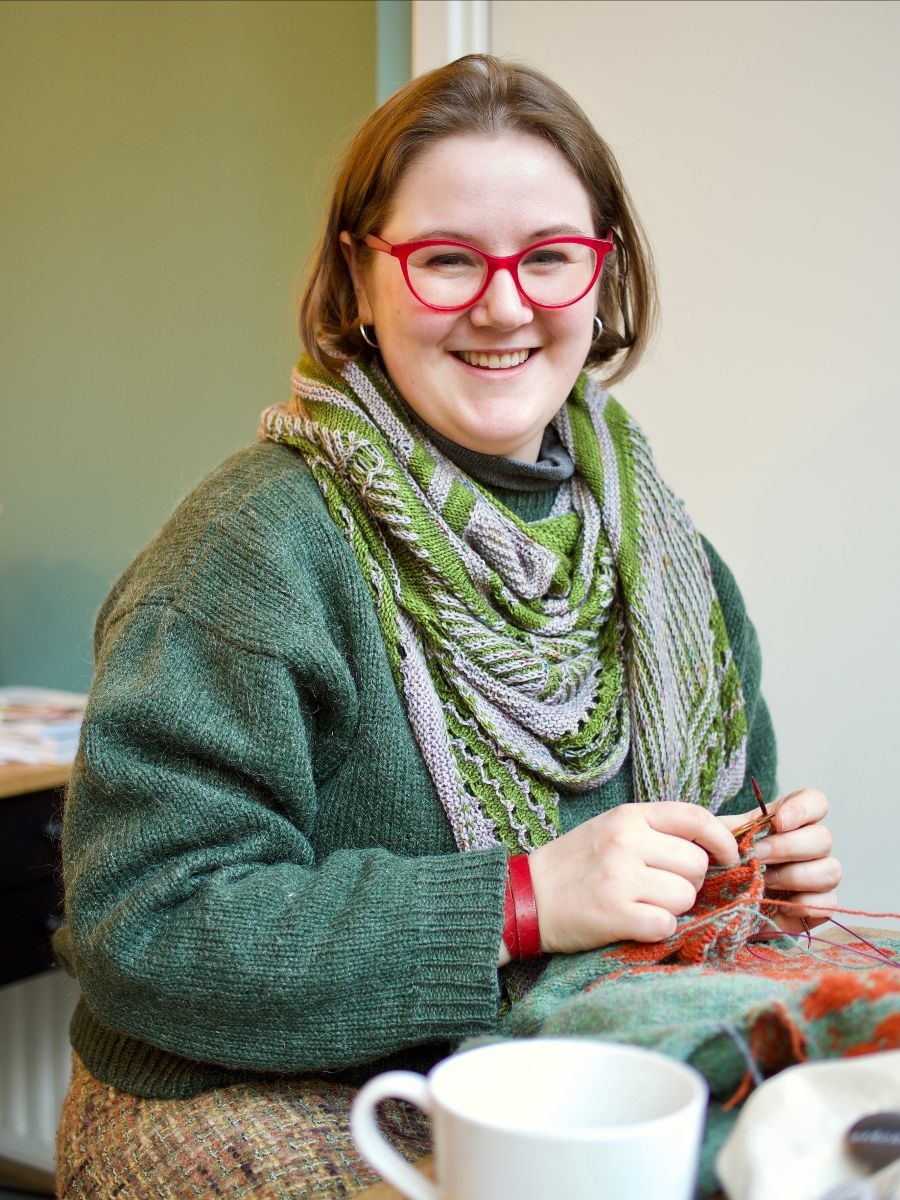 Rachael is from Somerset, UK, and joined us in July shortly after she moved to the Netherlands.  She started in the shop, and in October, transitioned to our customer service desk in the back office.

The first project Rachael can remember completing was bulky scarf, still proudly displayed at her parents' house.  She learned to knit at the age of nine, taught by both mum and gran.  Rachael loves knitting cables and stranded colourwork patterns, and she hopes to visit Shetland as she finds the style and heritage of knitting there very inspiring! 

When not knitting, Rachael enjoys reading (especially on her long train commute from Den Bos), dress making, baking, and listening to cosy murder mystery podcasts. 
NOVEMBER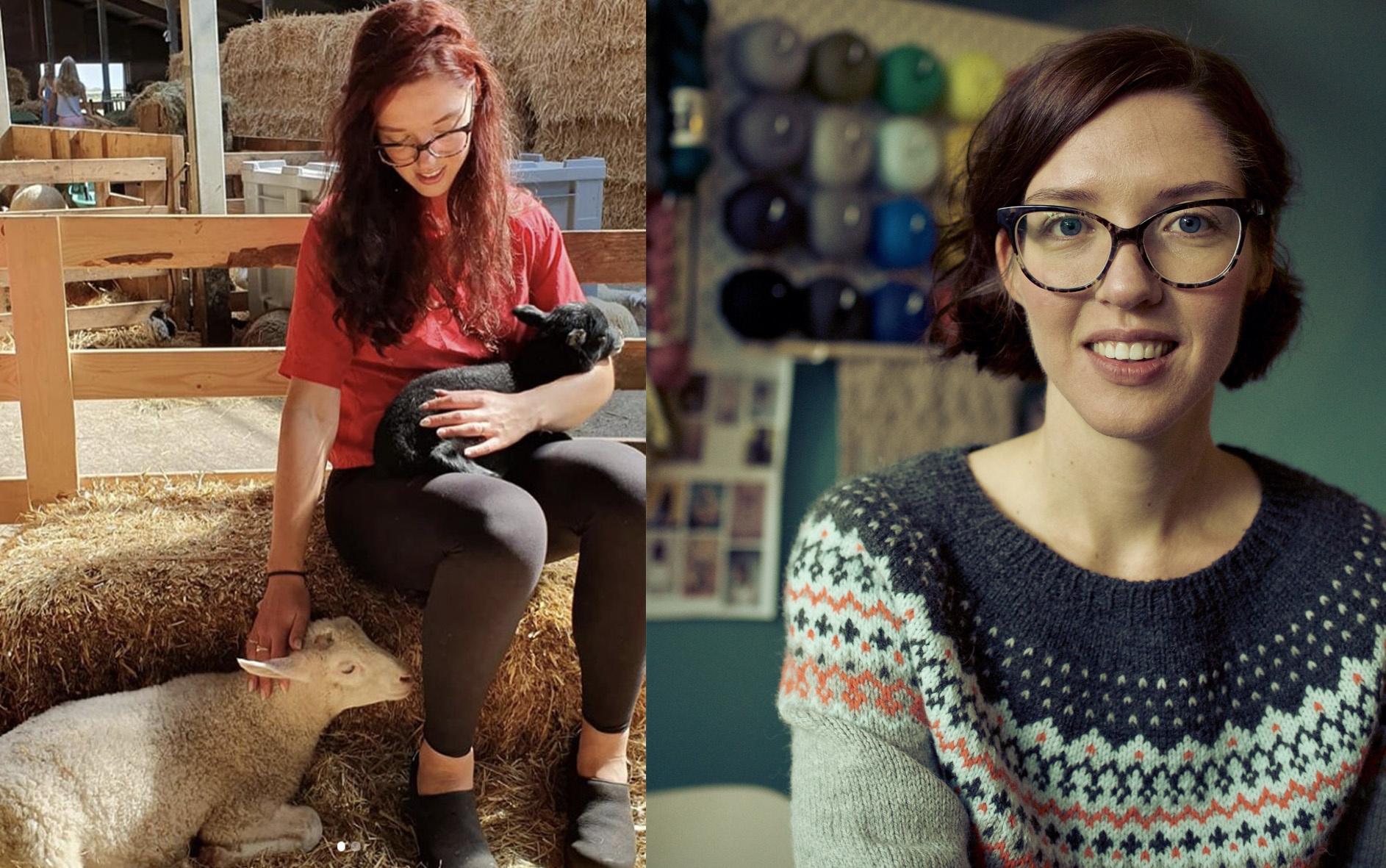 Liza has been helping customers in our shop since 2018, a year after she finished her masters in Artistic Research. She loves finding your perfect skein, fade or souvenir and is very eager to learn as much as possible about crafts and the craft industry.

She is a busy bee, and also writes for contemporary art magazines and academic platforms and as cherry on top, she is also a practicing artist.
Next to working in our shop, Liza has also been to Edinburgh and Dublin with our festival team and she is also in charge of the communication with our 'sister' Clarisse in Rwanda, that we've met through Women for Women, a charity that we happily support.

Although Liza is a Dutch native and Amsterdam feels very much like her home, she has also lived in Chicago and Ho Chi Minh City. She currently resides in an apartment just down the street from the shop, right in the heart of the red-light district.

Liza knits and crochets wherever she goes, and she is very much into the cable hat and the LYS Cardigan by Andrea Mowry that she is currently working on
OCTOBER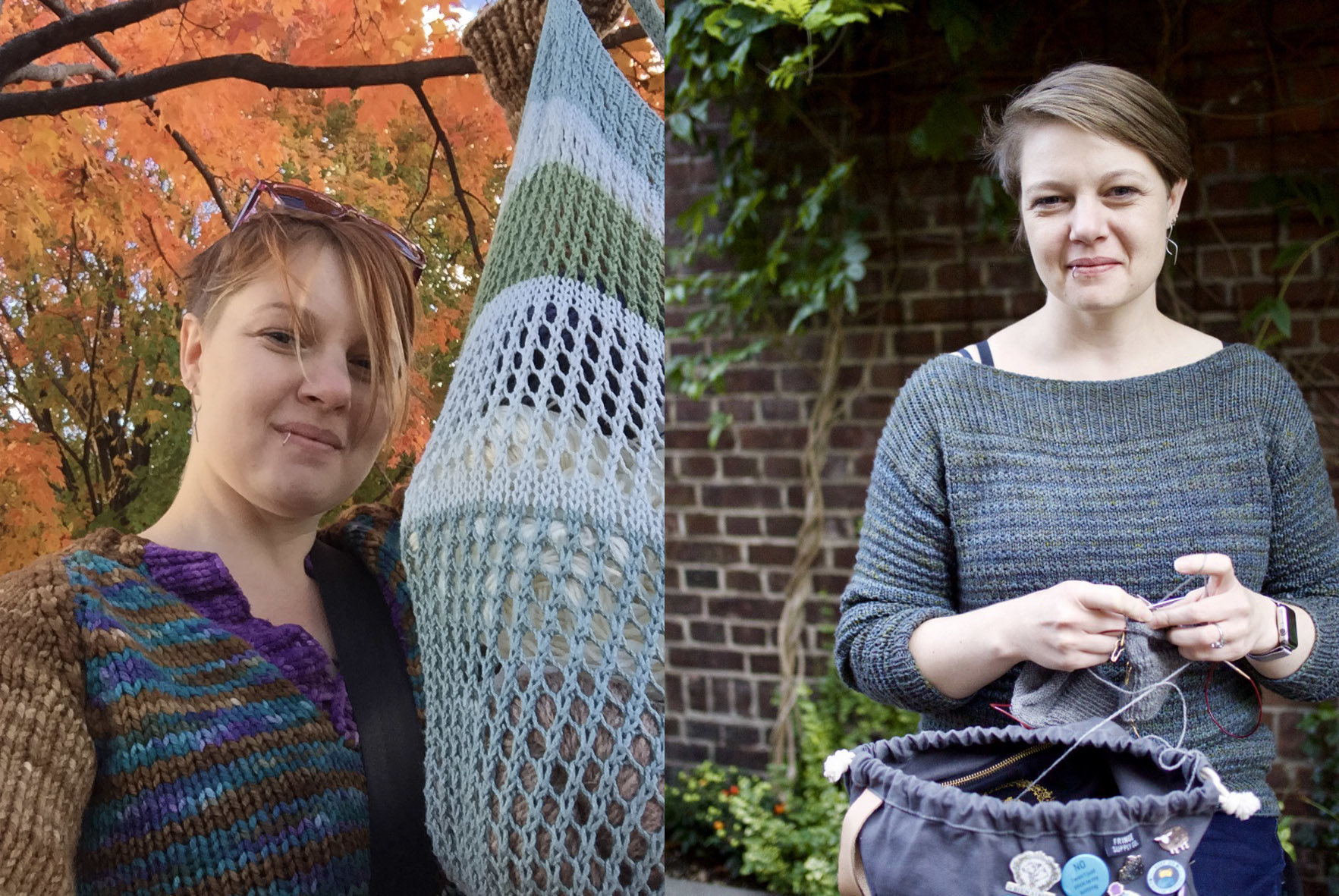 Emily is our Administration Supervisor, which basically means she does a little of everything!  She manages all the inventory comings and goings, monitoring changes in stock both in store and online.  She's also responsible for adding new items to the website, compiling web stats, communicating with our teachers and Designer of the Month, and editing the newsletter! You may have received an email from her for a special issue or if our other customer service reps were on holiday, but mostly you know she's here because things run smoothly.
Originally from Portland, Oregon in the US, she has lived in Amsterdam for two years and has been with Stephen & Penelope almost the whole time.  She enjoys improving her Dutch, and exploring the country with her family.

Emily can often be found knitting a sweater or two-at-a-time socks at the lunch table in our office, and describes herself as a "Netflix knitter." 
SEPTEMBER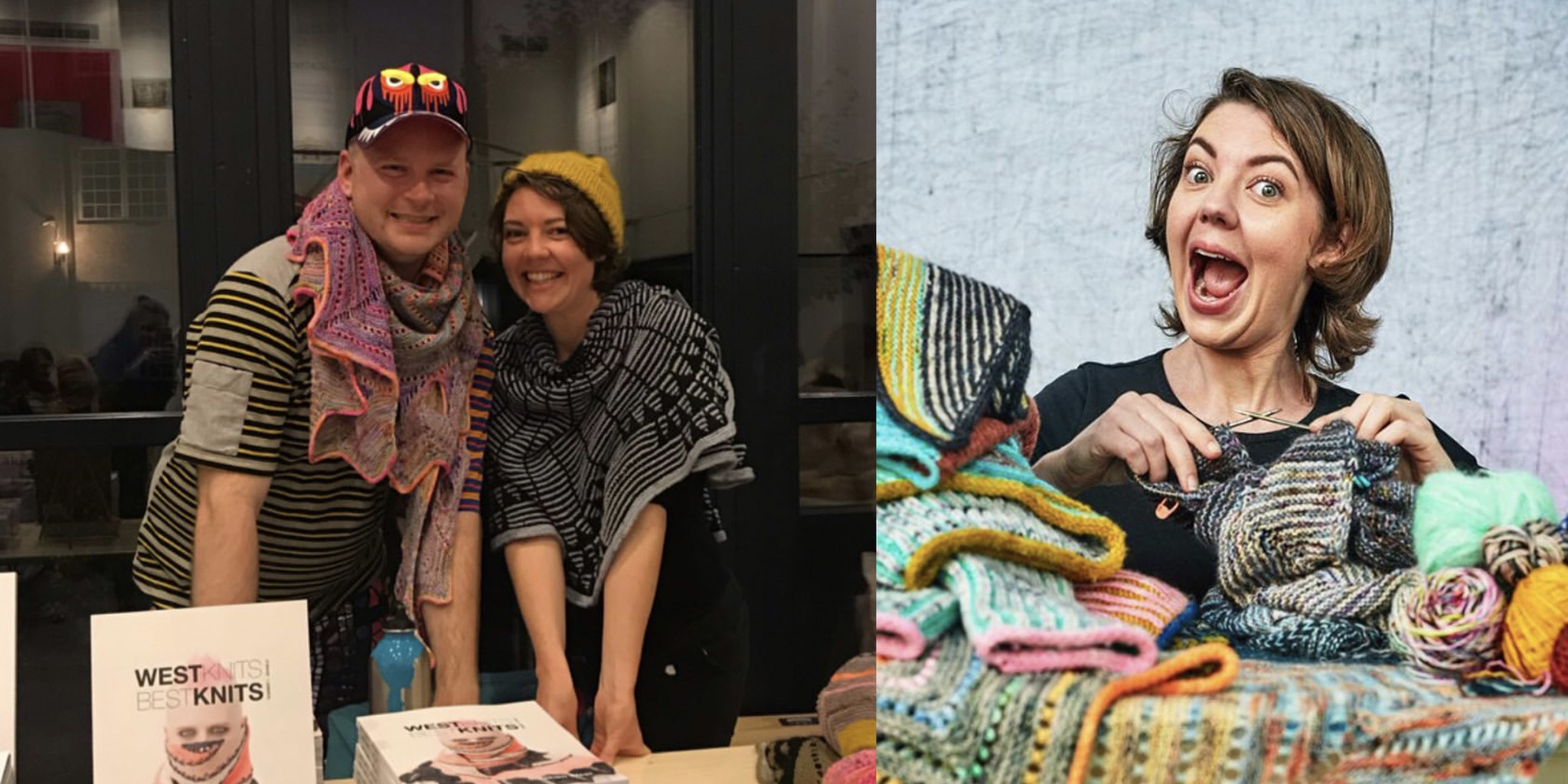 Matilda has been working for Stephen & Penelope off and on since 2016. After moving to Amsterdam from Perth, Australia, she started working in the shop on Sunday afternoons, and is now the full time Operations Manager for Westknits. You might find her building colour palettes and meeting knitters at yarn festivals with Stephen & Penelope, or occasionally on the road with Westknits.
When she's back in the office, she works on Stephen's book projects, plans Westknits tours and manages Westknits communications. Matilda is very food motivated and she loves to cook. A proud slow knitter, her favourite project to date is Vertices Unite from Stephen West, and she is currently working on a sweater of her own design.
AUGUST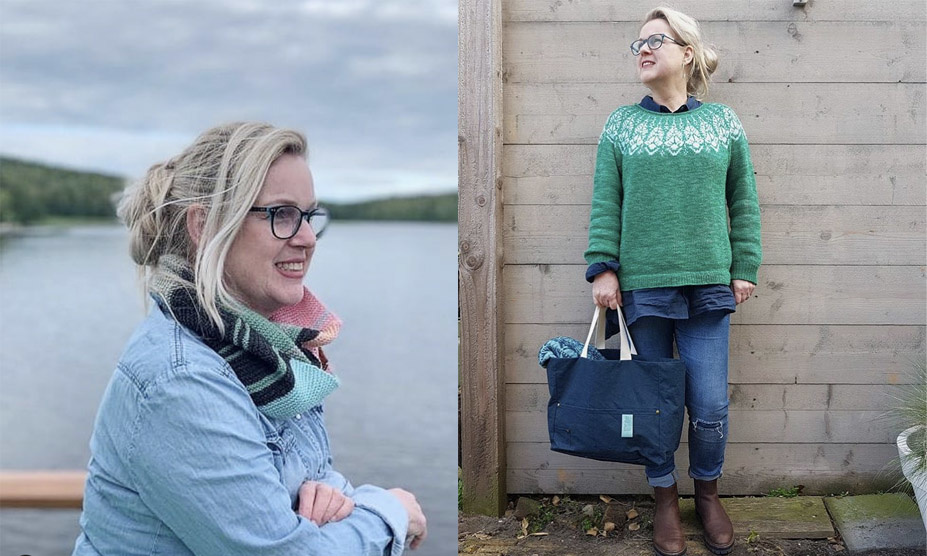 Assistant Manager, crafter, and author Lidy Nooij is a regular face during shop hours and at our monthly craft night!  We're all excited for the upcoming translation of her book "Craft Dates" which is currently available in Dutch, the English version will be called "A Year of Creativity."
Lidy is a Dutch native who commutes in by train every day from a neighbouring city.  She often uses her train time to work on beautiful stranded yoke sweaters, which she seems to finish every week!

In addition to knitting Lidy also sews, macramés, punch needles, and embroiders.
At the shop you can find Lidy designing our window displays or perfecting the rainbows of yarn on the wall.  She also frequently on our festivals team, and has been to Edinburgh, Dublin, Jyvaskyla and more with Stephen & Penelope.
JULY


Eduardo started with Stephen & Penelope in January 2018, then took a hiatus to pursue his studies in choral direction.  We're super excited to have him back in the store for his summer break from school!  Eduardo is from Chile and can help you shop in English, Spanish, or Dutch.

When he's not busy knitting or crocheting he can often be found crocheting or working on a choral piece.  Eduardo mainly focuses on shawls, and has knit and crocheted several samples for the shop, but also is dipping a toe into sweaters.   If you're in the shop this summer be sure to say hello before we lose him back to academia!
JUNE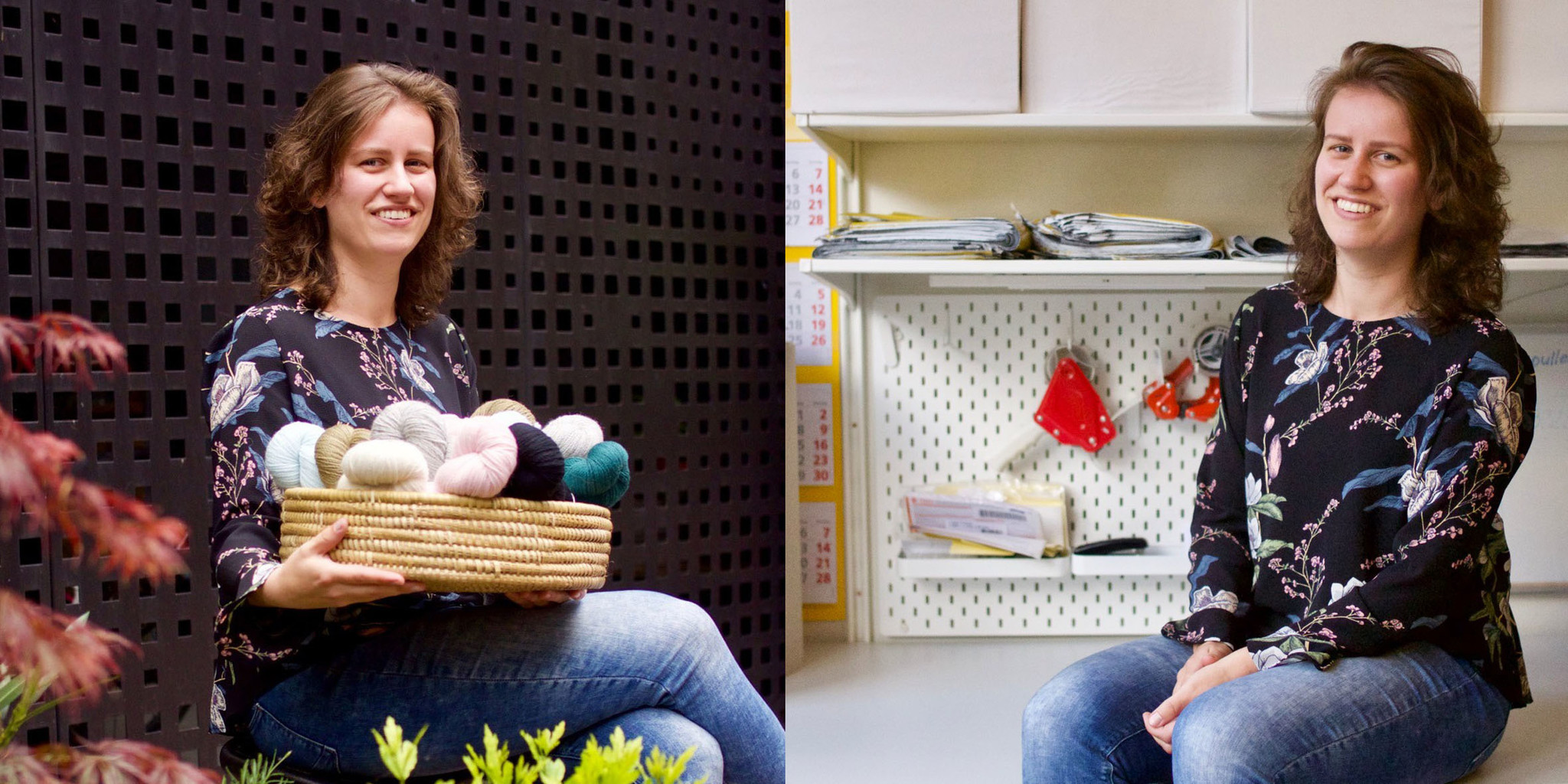 Marit has been personally involved in almost every online order that has left our shop since she started in October last year.  In addition to packing and shipping, she also runs online customer service, helping customers choose the right yarns for a pattern, or putting together custom palettes. 

For her own knitting Marit often prefers colourwork with solid yarns, and is frequently seen working on mittens or a sweater at the lunch table.  When she's not knitting she likes to paint, ride her bike, or read a book in the sunshine.

Marit is a Dutch native, but plans to leave our lovely land for a new adventure in Norway later this month.  We all hate to see her go but wish her nothing but the best!
MAY


If you have been to our brick and mortar location, you surely will have met Roswitha de Joode.  She's our Store Manager, and absolutely the heart and soul of our customer experience in the shop.  

Roswitha started at Stephen & Penelope more than 7 years ago in our tiny little shop on the Lange Leidsedwarsstraat as occasional fill-in help back when Malia ran the shop alone. It's fair to say that Roswitha has been a huge part of the successful growth of Stephen & Penelope. Recently we named one of our West Wool colourways after Roswitha's favorite color - rose pink!  

Known in the shop for her almost-encyclopedic knowledge of baby jumper and cardigan patterns, Roswitha is the mother of a 2-year old, and has made numerous baby knits for friends, family and colleagues throughout the years. Though she's a self-described slow knitter, she's still amassed a tidy little collection of hand knits and accessories and proves that slow and steady wins knitting too!