MARCH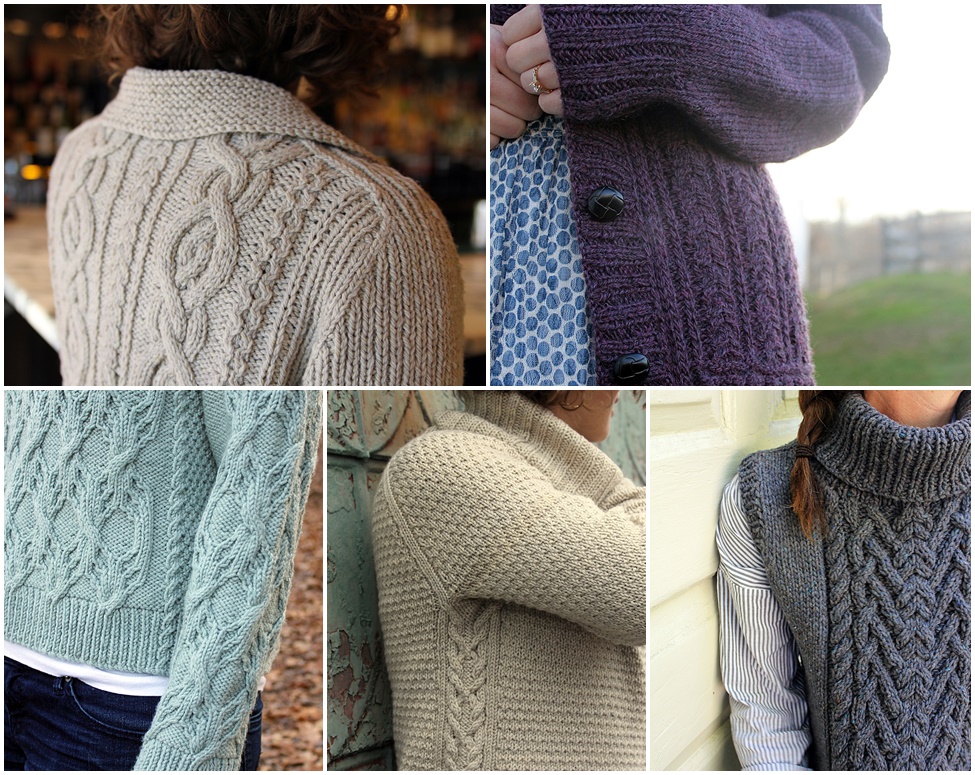 THEA COLMAN
Thea became a knitwear designer almost by accident. After working in various advertising agencies, she took a break to be home with her young daughters and fell into knitwear design. 

Thea's designs are wearable, comfortable, and always have great details and well-considered textures.  She mostly designs women's garments and accessories; using cables, lace, and little details to make designs that are classic and wearable, but just a bit unique.  Throughout the month of March stop in to see Negroni, Mamie Taylor, and Vodka Lemonade on display
Thea has also designed a hat pattern named after Dutch gin - Genever. This beautiful colourwork hat is made to be knit in the always classic Brooklyn Tweed Shelter. Stephen & Penelope customers will get $2 off the pattern price! Stop by the shop to get your copy of Genever! Read more about Genever, and how the crossing of Malia (owner at Stephen & Penelope), Thea, and Andrea Rangel's paths in Shetland inspired this design on Thea's blog.
FEBRUARY

SUSAN CRAWFORD
Our very special Designer of the Month for February is Susan Crawford. This Designer of the Month is actually coming to Amsterdam to show us her samples in person! 
We first fell in love with Susan's work with her books A Stitch in Time Volume 1 and 2.  The pair of books bring to life vintage period knitting patterns spanning the years 1920 - 1959. The pair comprise a gorgeous vintage pattern collection.
Susan's most recent book, The Vintage Shetland Project is the culmination of the several years Susan has spent researching early 20th Century knitting in Shetland. Susan has painstakingly recreated hand-knitted garments from the 1920s to the 1960s from the Shetland Museum's archives and created patterns from these vintage items.
Join us on 17 February in Amsterdam to meet Susan, view samples from the book and hear a presentation about this new project and to hear about the forthcoming book!
Samples from the book will be on view only during the event, and as a special treat, you can also shop Susan's line of yarns on the weekend of the 17th and 18th of February.
JANUARY

ISABELL KRAEMER
Our Designer of the Month for January is Isabell Kraemer. Her stunning contemporary designs have been published in Laine Magazine, Amirisu and Vogue Knitting among others. She has also produced beautiful designs for Malabrigo Yarns, Quince & Co and Swan's Island… all in her signature streamlined and contemporary style.
Isabell is a qualified dressmaker who became a knitwear designer almost by accident! People kept asking her how she made things, so she published her notes on her blog. When she discovered Ravelry she gradually started to publish more and more designs. It wasn't long before she had gained a large and dedicated following for her fresh, wearable, and modern patterns.
Until the end of the month we have Humulus, Bavaria, Aileas, Ashes, and Arwen on display from Isabell. You can purchase her stunning patterns through us in-store, or via her Ravelry store.
DECEMBER

NATASJA HORNBY
Our December Designer of the Month is a little closer to home.  Natasja Hornby is the woman behind the striking designs of Moonstruck Knits. Born in South-Africa, raised on the Dutch island of Texel, Natasja now lives and works in Amsterdam.  Although she is formally design trained and has been teaching textiles and arts for over a decade, she is still relatively new at designing knitwear. She's inspired by the life in the city - it's flamboyant people, it's art and it's architecture – but also by wind-swept Texel.  Natasja's designs are wearable, unpretentious and fuss free, but never boring or generic. To her, knitwear should be an eye-catcher, but also a shield against the weather.
Until the end of the month we have three gorgeous Moonstruck Knits samples in-store, Neruda, Tycho and Maan. Make the time to come and see them, they're worth the trip!
NOVEMBER

CAITLIN HUNTER
We've been eyeing Caitlin Hunter's designs for a while now and we're super excited to have her as November's designer of the month. Originally from Alaska, she now lives in the forests of Oregon, and the influence of place can be seen in her work. Her designs are innovative and stunning, intended to be treasured for a lifetime and beyond. Caitlin's designs also reflect her philosophy "knitting is like any challenge in life- just take it one row at a time and you will be surprised at what you can accomplish!" Caitlin sent us many fabulous samples so stop by and see Tegna, Orha, Sunset Highway,  Birkin (as seen in Laine Issue 2) as well as Zweig (as seen on our Instagram) in store!